Before there was Arrow Ford, there was H.S. 'Higg' Higginbotham...
Homer Seaton "H.S." Higginbotham Jr. was born in Northeast Texas on October 14, 1912, into a long line of Rusk County farmers. He was raised in the world of farming but after graduating from high school in Gladewater, TX he left for college at Tarleton and never looked back.
It wasn't long after graduation that the automotive industry came calling, and he began working at the Pontiac Chevrolet dealership in Athens, TX. The car business bug had bit, and it would soon take him away from East Texas and deliver him to Abilene. 
The budding community in dusty West Texas welcomed "Higg," as he was known to his friends, in July 1941, to the Jack Hughes Organization as the office manager of Western Chevrolet located near downtown on North 1st Street. After two years, he was named Executive Vice President. 
Higg took on a leadership role in the Hughes Organization, led the transition of Jack Hughes' private airport into Abilene Aviation Co. and was appointed General Manager. The aviation company contributed to the war effort though their pilot training programs.
In the early 1950s Western Chevrolet was relocated to 4001 South 1st Street and one of the hangers was converted into their service center. At the time it was the largest dealership in the state and was so far outside of town that they shuttled workers to and from the downtown area. 
During this transition the Abilene Aviation Co. was moved to the west side of the current Abilene Airport, but a runway was maintained for a time linking the old air field to the dealership where airplanes continued to be maintained. Next time you are passing by South 1st Street, you will see the hanger which still serves as the service facility for Arrow Ford complex.
Jack Hughes and Higg weren't done with big projects. In 1962, Jack named him General Manager of his Westgate Shopping Capital (current day location of the Abilene Law Enforcement Center), the area's first indoor shopping mall. He brought stores to Abilene like Montgomery Wards, J.C. Penny's and Walgreens where you could get the best milkshake ever. Many in Abilene have fond memories of shopping or catching a movie at Westgate UA Cinema. Higg purchased KCAD radio in January 1964 and located the station in the east end of the mall where "Slim Willet" (Don't Let The Stars Get In Your Eyes) broadcasted to Abilenians every day.
Higg also believed strongly in growing Abilene and it's future. From assisting with the push to reactivate Tye Airfield into an USAF installation (now Dyess AFB), the forming of the Bank of Commerce and First State Bank, leading the campaign to allow alcohol sales in Abilene and as a leader in numerous civic groups, he was always looking to make Abilene a bigger and better version of itself. This was never more evident than when he worked with Bill Senter and the Dodge Jones Foundation to secure land from the Jack Hughes Estate for the Abilene Industrial Foundation that became the Five Points Industrial Park.
So many projects he worked on surround us everyday as we drive through Abilene. It is because of citizens like H.S. "Higg" Higginbotham, that today Abilene is thriving.
In June 1964, Higg took his 28 years of automotive experience and bought the McIllwain Ford dealership at the corner of South 1st and Pioneer (modern day location of Whataburger).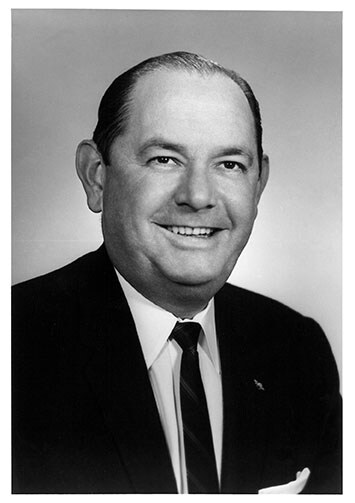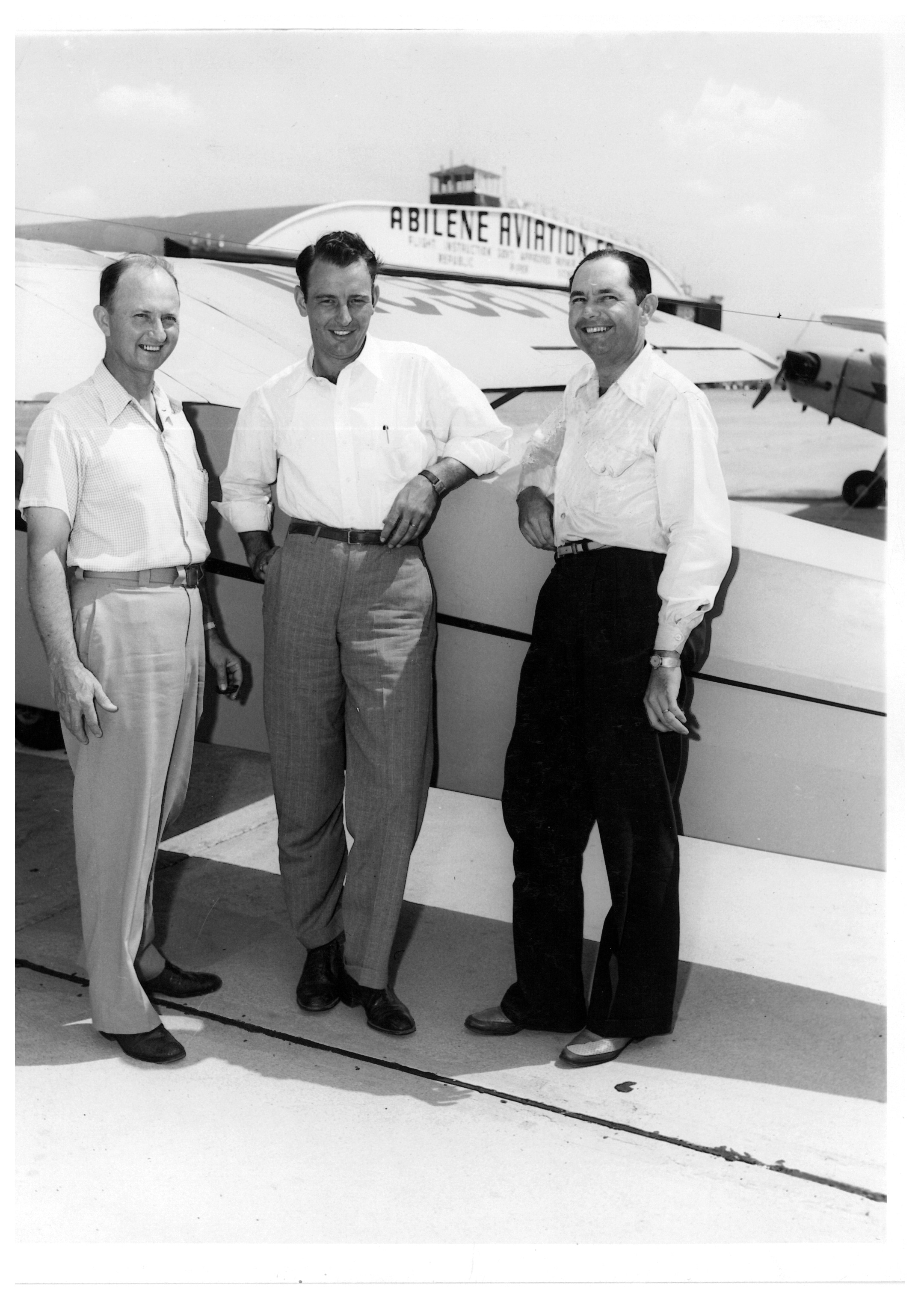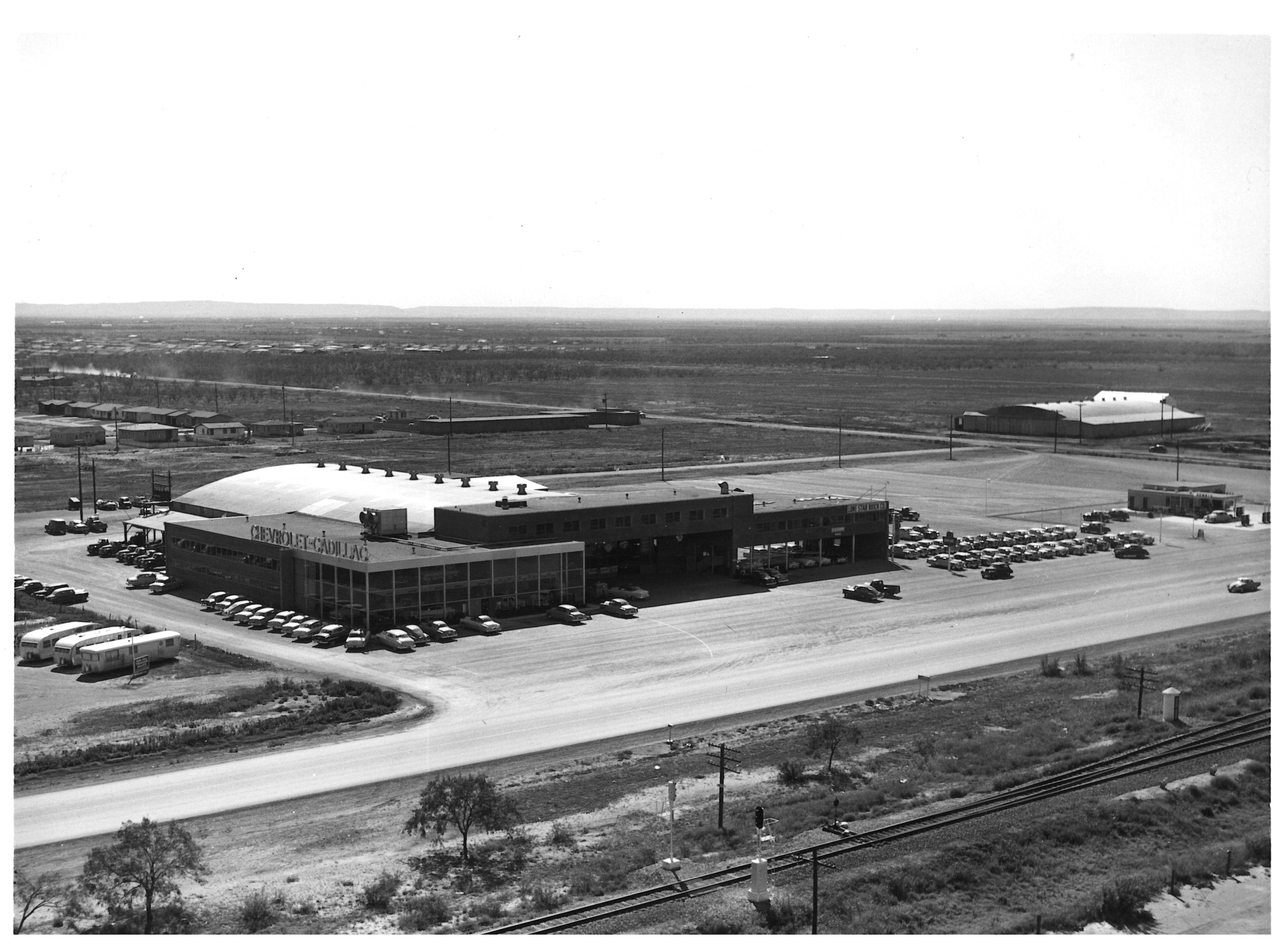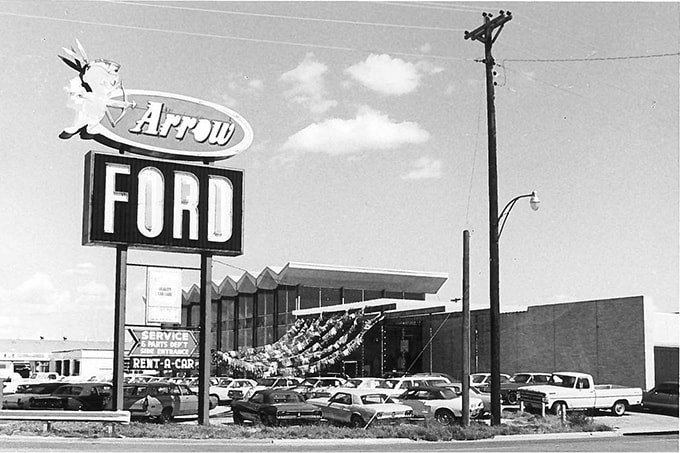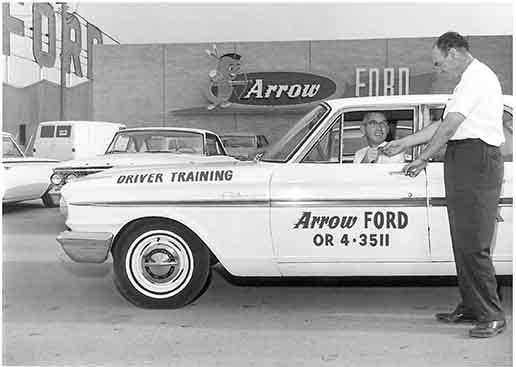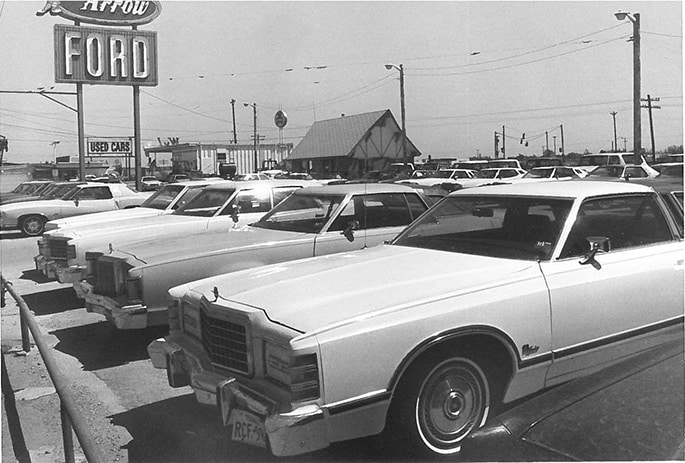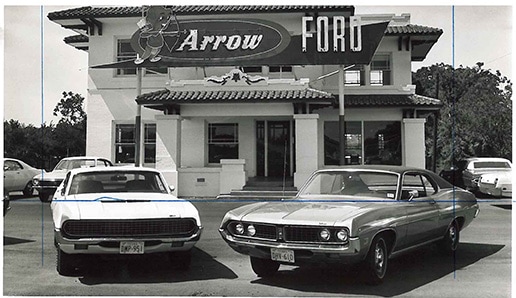 The Arrow Ford Saga Continues...
It all started in 1963 when H.S. (Higg) Higginbotham tried to buy Western Chevrolet from his mentor Jack Hughes. The Chevy Corporation said "No" they wanted to sell it to a factory guy; he could have one somewhere else. But his love for Abilene wouldn't let him move, so he partnered with Lynn Lee and on June 5, 1964, purchased McIlwain Ford and bled Ford Blue from then on. Their first task as partners was to come up with a name and sitting in the Walgreen soda fountain they pondered the problem. Knowing they couldn't afford a sign with 19 letters "Higginbotham Lee Ford" they settled on "Arrow" and the name just worked. They started branding their company right away with a contest to name their mascot. The winning name was…. Little Chief "TP" (Total Performance). It was a perfect fit as their vision was to provide total service to all their customers. They were passionate about the business and made it fun for the customers and the employees. They once cut a deal with Ford when Mustangs were hot and hard to get for 20 pink Mustangs. Needless to say that wasn't one of their "Better Ideas," but they did do a radio spot with Slim Willet encouraging people to honk their horns when they drove by the dealership trying to get the dealership's glass windows to break.
Higg believed in selling new Fords but realized that lots of people couldn't afford one. After all, a new F-100 did cost $1695. So Higg grew his used car operation by setting up multiple used car locations through out the city to make it convenient for his customers. At one point there were five lots, but it wasn't just about selling cars to Higg; it was about service. Arrow has always had it's Service Department open on Saturday and always had a wrecker, a Body Shop and a Rent Car department. They even provided driver training cars for the AISD. It was a total vision of customer service which has lasted the test of time. Higg always saw his role as a job provider, and he constantly looked for new ways to give people a better life. He loved and rewarded his employees as family. He also believed in partnership and this, coupled with his passion to provide jobs, led him to help others succeed. He created an owner/operator model that gave rise to Star Lincoln Mercury Dodge and Heritage Cadillac in Abilene, Village Lincoln Mercury Dodge in Midland, Alpha Dodge in Wichita Falls, El Reno Ford in Oklahoma and Sun Chrysler Jeep Dodge in Odessa. 
1974 was Arrow's 10th anniversary and was a big year for Higg. Their lease was up, and Arrow needed a new home, so he bought the Western Chevrolet building, completely remodeled it and Arrow has been there ever since.The first of Higg's three sons, Seaton, joined him in 1974. Seaton had grown up in the service end of the business and soon assumed the role of Service Manager where he continued the family philosophy of service.  Creating programs like "Damsels in Distress," a free wrecker service ran by Albert Wilson, who would take you any where you wanted to go in Abilene, even another shop or home.
H.S. Higginbotham (Higg) created Arrow for more than one reason. It wasn't just to create jobs and help others succeed; it was also for his family. Seaton Higginbotham joined the firm after graduating from Texas Tech in 1974. Dale Higginbotham graduated from Texas Tech in 1975 and also joined the firm. They both started in Service, which Higg believed was important to Arrow's Philosophy. Dale soon assumed the role of General Manager of Heritage Cadillac, later becoming the Parts and Service Coordinator at Arrow. Vinson, Higg's third son, joined the firm in 1984 and also assumed the role of Service Manager, later overseeing all the properties of Arrow Ford and becoming its Vice President. The lines between family and employee blur when it comes to Arrow. At any given time, you will find employees in their 70s and 80s still working away and still making a contribution to Arrow's mission.
Seaton's first service program was "Damsels in Distress," established in 1975. The program was headed up by Albert Wilson and taken over by Johnny Black in 1988. These two men helped thousand of stranded "Damsels" by towing them anywhere they wanted to go in Abilene free of charge, 24/7. Seaton assumed the role of General Manger for Arrow Ford in 1978 and continued the family's commitment to Abilene by being elected to the Abilene City Council and numerous boards and committees including the Abilene Industrial Foundation, "Water Now" and President of Abilene Crime Stoppers.The Little Chief "TP" slogan was replaced in 1975 with "Under the Big American Flag". After being remodeled, Arrow's new home at 4001 S. First raised it's first American flag, a 20x30 foot beauty, to better depict Arrow's commitment to country. This theme runs as true today as it did then. 
Our kids are the key to the future and Arrow has always tried to impact their lives. They opened Arrow Ford in Safety City in 1981 to help third graders learn vehicular and pedestrian safety. Later, Arrow created computer games for third graders to help promote safety and educate them on Abilene, Ford and Arrow. The oil bust of the early eighties brought tough times to a lot of Big Country folks. To meet the need, Seaton opened up the Loan Arranger in 1987, offering financing to those the banks would not help. Seaton proudly put the Arrow name on it. Arrow has been helping people get back the lifestyle they deserve through programs like "ReCreditPair", Guaranteed Credit Approval and Vanishing Interest Rates ever since. Arrow added Mitsubishi to it's line of vehicles in 1989. From the Eclipse to the Mirage to the Outlander, this quality import has added intrigue, fun and depth to the Arrow product line. Arrow also owned Hyundai, Mazda and Fiat at one time.
Arrow continued to grow and in 1995 employed a hard working team of over 150. This team ended the year with 5071 vehicle sales, totaling 34.4% of the Taylor County registrations, and ranked in the Top 10 in used car sales in the state. Arrow was truly becoming "The Right Choice".
Arrow Ford "The Right Choice
"...
The Right Choice slogan was the brainstorm of Mari Kay Morrison who joined the team in 1993. Shortly thereafter in 1995, Arrow set out on its second remodel project. The focus was on the customer; consultation centers replaced desks, the service drive was expanded and the parts warehouse was doubled in size. Last but not least, a finance and delivery showroom was created, and customers started driving their vehicles off the showroom floor. 
It has always been about the customer experience at Arrow, and the power of the employee to give the customer what came to be known as the "I CAN ATTITUDE." Seaton was heavily influenced by Zig Ziglar and his approach to life. Seaton had his team bring an empty green bean can and a stack of magazines to a leadership meeting, where he had them cut out eyes from the magazines and paste them on the can; hence the "I Can." This pencil holder sat on their desks to remind them of the vision. The "I Can" philosophy had many spin-offs, from "I Can" Kids created to promote reading at a mock town at Thomas Elementary where fifth graders are interviewed and "hired" to run the Arrow "I Can" store, to an "I Can" sales days campaign that had employees performing whimsical skits to promote the vision. 
At Arrow, it's all about Partnership, not only between its employees and customers but also within the community. In 1998, Arrow partnered with KTXS TV, KEAN Radio and the Abilene Reporter News to recognize the people who teach, mentor and lead our children. TEACHER TRIBUTE gives students the chance to say "Thank You" to the teachers who have inspired them the most. Then in 1999, Arrow partnered with Cumulus Radio, KTXS TV and Love and Care Ministries to help the homeless in Abilene. In the first 15 years, MISSION THANKSGIVING collected over 11.5 semi-trucks of food and clothing and over $200,000 in cash for the needy.
September 11, 2001, hit Seaton hard. He recalls watching the towers fall with his two daughters in his office. Shortly thereafter, they lowered their 20 x 30 foot flag, and holding it outstretched, sent a message of support to the President and the men and women who gave their lives that mournful day. That loss continues to shape Arrow and its beliefs to this day. Seaton turned his service leadership to his industry at the turn of the century, working on the HSBC Dealer Council to help create indirect dealer finance programs and Zurich Insurance Dealer Council to develop a national sub prime program, helping customers that banks were unwilling to finance. Seaton also served as the 2006 Chairman for the Texas Automobile Dealers Association. As Chairman, he represented 1,400 Texas dealers at both the state and national level.
Arrow continued to grow its used car operation by improving locations and growing its staff. Discount Center's "Bargain Ben Bubba" became a household name along with Program Car Center and Special Finance 1 and 2. Then in 2003, Seaton added the Chrysler & Jeep franchise to its line up of vehicles. Located next to the Ford store it was perfectly positioned and saw Arrow Chrysler Jeep became a 5-star Dealer and ranked in the top 10 percent nationally in its customer satisfaction. At the beginning of the Great Recession, Arrow's Team had grown to over 200 employees but that was not to continue.

The Great Recession and Next Generation...
Founder H.S. Higginbotham's beliefs were formed in part by the Great Depression of the 30's. So it seems only fitting that during the Great Recession of 2009 that those same principles would see Arrow through it's darkest days. At the beginning of the recession, Arrow was selling 350 units per month and had over 175 employees, by December of 2009 sales had dropped in half and the number of employees stood at 116. The recession hit the working man hardest of all, and Arrow's focus on "Main Street not Wall Street" soon led Abilenians to see Seaton on TV with a message of hope. He encouraged the community that better days were ahead for those who looked in the mirror, took responsibility, and held out a helping hand of Partnership and Teamwork for all. Arrow continued to grow even in theses times and started a new department, "Quick Lane" to compete with Jiffy Lubes of the world, and expanded their Auto Accessories & More department. Recession hit Arrow doubly hard in June of 2009 when Chrysler declared bankruptcy and terminated, without cause, 800 dealers. Arrow was one of those dealers. Arrow Chrysler Jeep was given 30 days to liquidate, and thanks to fellow dealers like Mike Dunnahoo and Blake Fulenwider, the liquidations deadlines were met. This did not, however, stop the debt and Arrow completed paying for the franchise it no longer owned in 2013.
Seaton gives special thanks to three groups during these dark days.
       First, his employees, who took a pay cut, worked longer and harder and maintained an unwaving faith in "The Way Forward Plan." In 2010, Arrow started on a quest, a journey to go from "Good to Great." They first recommitted themselves to each other, because without trust in each other they knew nothing great could happen. Then to the principle of "First Who" as they started to rebuild their organization one person at a time, each committed to a doctrine of fairness centered around their customers' wants and needs. This continuous quest to adapt to an ever-changing world is what drives them today. Their Hedgehog philosophy became "to create Raving Fans by enthusiastically identifying customers' wants and needs and satisfying them completely." Their jobs became simple, "to provide their customers with enough information to make informed buying decisions." RAVING FANS-NO EXCUSES became their battle cry.
    Second, to Arrow business partners like Christ Kerby and Eric Melon with First Dealer Resources, Ford Motor Credit's Mary Dorsey and Gary Byrd, First National Bank's Scott Dueser, and Prosperity Bank's Ed Greenlee and Gary Galbraith. This community is about relationships and partners who stand with you through thick and thin.
    Finally, to his customers community: Seaton has a belief that what you give out you get back, and the return of love and support from our customers and community turned those dark days bright. It was simple things that make the difference, like a ticket to the Fur Ball for Rescue the Animals or Abilene Christian Schools' Banquet or a free gold watch in support of Love and Care Ministries. When asked about the dark days, Seaton said, "It has all been about partnership and supporting each other as a family, staying focused, and working diligently towards one vision and one goal of creating Raving Fans."
In June of 2013, the time had come for more changes as Seaton and Dorthie, his employee partner of over 40 years, promoted themselves to the position of "Mentor" and turned over the reins to the next generation. He promoted his daughter, Shanna Kevil, to General Manager and Trennon Cauthen to Comptroller. Shanna and Trennon served in almost every role in the dealership, from Service Manager to Sales Manager, and from Finance Manager to Office Manager. They know and understand the needs of their customers. In Shanna's first year as General Manager, Arrow broke ground on it's third renovation and the dealership celebrated its 50th anniversary in 2014. Arrow continues the legacy of H.S. Higginbotham by its steadfast dedication to Abilene and Big Country community and to helping customers accomplish their goals.