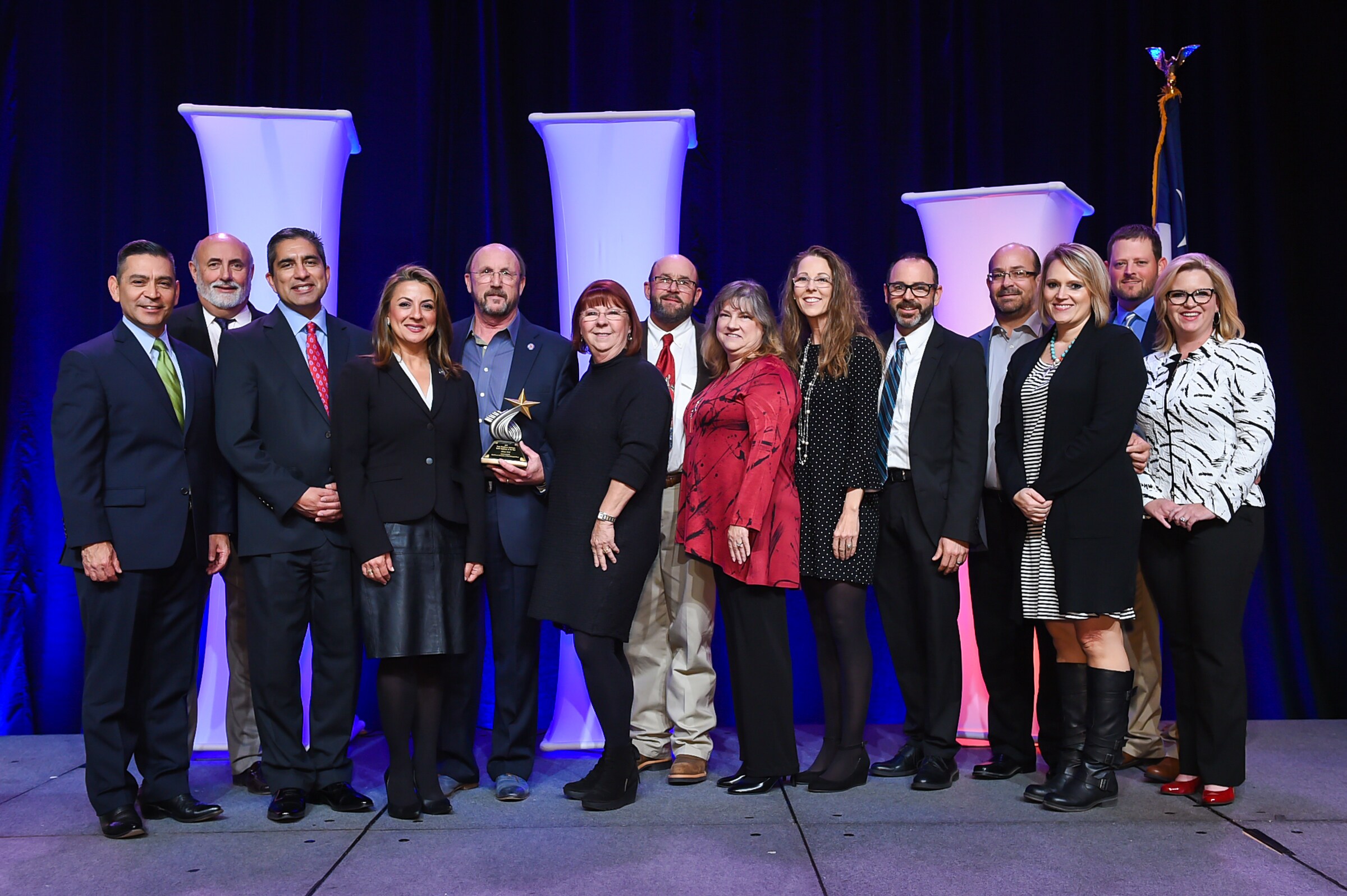 From the Director of Communications at Texas Workforce Commission...
Arrow Ford of Abilene was named Small Employer of the Year at the Texas Workforce Commission's (TWC) 21st Annual Texas Workforce Conference held Nov. 29 – Dec. 1 in Dallas. Arrow Ford was nominated by Workforce Solutions of West Central Texas (West Central) and chosen as the Small Employer of the Year from among three exemplary finalists, out of 18 small, private-sector employers nominated. All nominees were recognized for contributions to their community's workforce through innovation and collaboration with their Texas Workforce Solutions partner.
Arrow Ford is a premier employer in Abilene, providing outstanding automotive experiences since 1964. Arrow Ford currently employs approximately 125 people, including 13 veterans.
"Arrow Ford has epitomized leadership in developing a quality workforce, employing veterans, partnering with local educators and preparing students for their future success," said TWC Chairman Andres Alcantar. "I congratulate Arrow Ford for continuing the long tradition of Texas employers strengthening their communities and thank them for investing in Texas."
Arrow Ford directly supports workforce development through its membership on the West Central Texas Workforce Development Board, participation in their annual youth career fair and posting jobs on WorkInTexas.com. Arrow Ford is also a member of the Abilene Chamber of Commerce's Team Workforce initiative to attract, develop and retain a quality workforce for the Abilene area.
Arrow Ford has long been a strong proponent for developing a highly skilled future workforce. The company has been actively involved with West Central Texas's World of Work career pathways event as an exhibitor and recruiter of other businesses. The company created a 70-foot automotive display for the event that encouraged career exploration to 3,000 students.
"Arrow Ford supports a diversified workforce that includes veterans and soon-to-be separating active duty military personnel," said TWC Commissioner Representing Employers Ruth R. Hughs. "I commend Arrow Ford for hiring our nation's heroes, and congratulate them on receiving this award recognizing their leadership as a Texas employer who excels in their contributions to the community."
Last fall, Arrow Ford initiated and created the Abilene Automotive Education Alliance, which partners with Abilene Independent School District, Cisco College and Texas State Technical College to promote and expand automotive technology as a career pathway. Arrow Ford hosted four university students as paid interns during the summer semester. These students had the opportunity to continue to work during the school semester and build their résumés.
"Small employers often serve as the core of our local communities, providing employment to millions of Texans," said TWC Commissioner Representing Labor Julian Alvarez. "It's a privilege to congratulate Arrow Ford as they continue to strengthen and positively affect hiring in the Abilene region."
As a community leader, Arrow Ford reached out to the 7th Logistics Readiness Squadron, a vehicle division of Dyess Air Force Base (Dyess AFB), to provide training and work opportunities for separating active-duty personnel. This led to a partnership between Dyess AFB and Arrow Ford in developing a solution to reduce tire wear on modified Ford F-350s used by the military to tow munitions to be loaded onto aircraft. The partnership resulted in the immediate hiring of 13 veterans at Arrow Ford.
"We are honored to be recognized as Texas Workforce Solutions Small Employer of the Year," said Arrow Ford Dealer Principal Seaton Higginbotham. "Serving Abilene and this great state of Texas is what it's all about."
Additionally, two other exemplary employers were finalists for Texas Workforce Solutions Small Employer of the Year. Big Creek Construction Ltd (Big Creek) was nominated by Workforce Solutions for the Heart of Texas. A contractor in the Heart of Texas region, Big Creek provides all phases of heavy highway construction for the Texas Department of Transportation, including subgrade work, rehabilitation work, bridge construction, seal coating, and asphalt paving. Denison Industries was nominated by Workforce Solutions Texoma. Denison industries is a world-class manufacturer of aluminum castings used in aerospace, automotive, commercial and military applications.
Each of the 28 local workforce development boards recognized a Local Employer of Excellence at the conference. The award honors an employer that is actively involved with Texas Workforce Solutions and has made a positive impact on employers, workers and the community.
Awards also were granted to local workforce development boards that provided outstanding services to Texas employers, workers, job-seekers and local communities. Additionally, monetary awards were given to the boards that were recognized for outstanding performance. Monetary awards will be used to enhance board service programs during the next year. The primary goal of TWC and its Workforce Solutions board partners is to respond to the needs of Texas employers through locally-designed, market-driven workforce development initiatives and services. All employers, workers and job seekers are eligible to take advantage of these services.