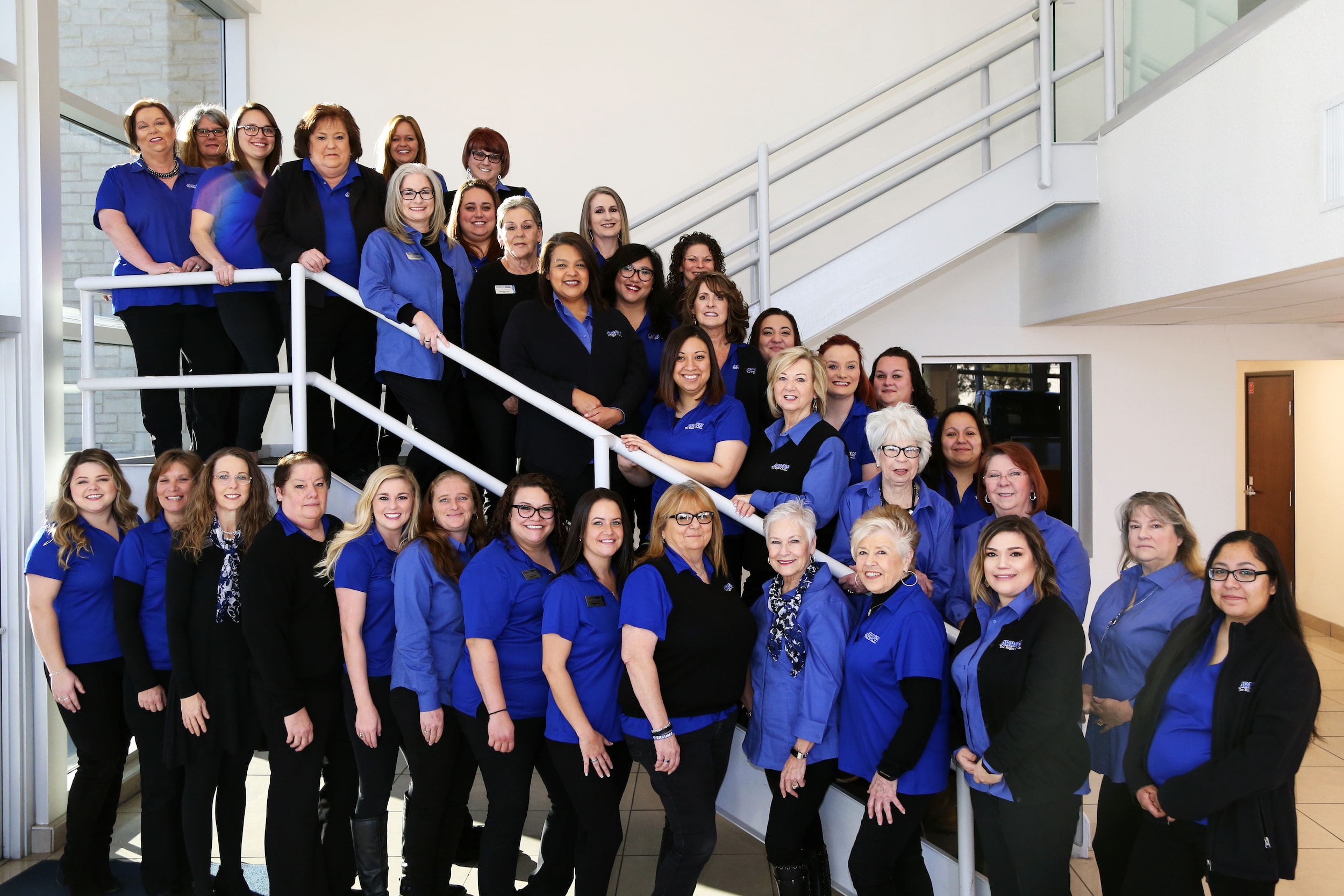 Pictured Top (Left to Right): Margie Royall, LeeAnn Willard, Keri Carlton, Linda Nuckols, Christal Smith, Whitney Peters, Patricia Frerich, Kendi Kevil, Maria Carducci, Rebeka Martinez, Theresa Lee, Vicki Huynh, Brandy Romero, Becky Jones, Veronica Alcantar, Daisy Arvizu, Lana Clift, Morgan Marcho, Hollie Harrell, Dorthie Saunders, Virginia Martinez, Carolyn Higginbotham, Karla Higginbotham. Picture Bottom (Left to Right): Katherine Parker, Cynthia Cantrell, Shanna Kevil, Leslie Willyoung, Sierra Lackey, Amanda Madison, Sarah Beth Holency, Lyndi Marks, Kathy Sutton, Lynda Bowers, Shirley Moore, Brittany Garza, LeeAnn Castillo. Not pictured: Donna Whitlock, Nicole DeLeon, Georgeann Meissner, Tay Harris and Diane Coffman.
Arrow Ford in Abilene, Texas is changing the way women do business across the automotive industry. Founded in 1964, Arrow Ford has always valued diversity within its staff of skilled workers, which still stands true in 2018. The "Women of Arrow," as we call them, now make up over 35% of total Arrow Ford employment. This history of strong female leadership in a male-dominated industry brings a unique "woman's touch" to Arrow Ford. Awarded the 2017 Small Employer of the Year for the state of Texas by the Texas Workforce commission, Arrow Ford is proud to employee over 40 females, 8 which are in leadership positions, including General Manager, Shanna Kevil.
Shanna took over as General Manager of Arrow Ford in 2013 and has added several hard-working, self-motivated ladies to the enterprise. Her journey began in 1988 as part of the Arrow Ford family, as well as part of the Higginbotham family. Since the day she started, Shanna has dedicated her career to the Arrow Ford enterprise and its customers. Many other hard-working women of Arrow have spent most of their career as part of the Arrow Ford family as well, including Service Manager, Kathy Sutton, Title Clerk, Leslie Willyoung, and Leasing and Sales Consultant, Maria Carducci. However, one servant leader, Dorthie Saunders, surpasses all others' tenure with 45 years of commitment to Arrow Ford. Dorthie spent most of her career with Arrow as Comptroller and has since changed her title to "Mentor" as she continues to lead and provide her knowledge all Arrow employees. Other outstanding ladies of leadership include Lynda Bowers, Theresa Lee, Cynthia Cantrell, Donna Whitlock, Whitney Peters, and Keri Carlton, all of which serve in Management positions.
In addition to the many local causes that Arrow employees participate in, the women of Arrow are also involved in the community through several different committees including Habitat for Humanity, Prosperity Bank Advisory Board, Abilene Automotive Education Alliance, Leadership Abilene, Abilene Business Council, Abilene Young Professionals, Hispanic Business Council, Rotary Club of Abilene, Ford Dealer Advertising, Rescue the Animals, Abilene Homeowners Association and much more.
These ladies are passionate about Arrow, it's customers, and the Abilene community. Their servant hearts and caring nature epitomize the heart of everything the Arrow enterprise stands for.