Employee of the Year- Dale Frerich
Dale Frerich has been with Arrow Ford for 4 ½ years. The Marine Core brought him to Abilene in March of 2010. Dale was in the Marines for 22 years with Dyess Air Force Base being his last duty station. He and his wife, Patricia, have 5 children, 7 grandchildren, and one on the way! Dale enjoys metal and wood working, as well as shooting. Arrow Ford employees awarded Dale with "Employee of the Year" for his dedication and work ethic. He said winning this award was very humbling. "I was very honored, and proud." Dale said, "When I retired after 22 years in the Marine Core I thought that would be the pinnacle of my life, and since working here I figured out that it's just the beginning. This enterprise has let me know that I have more to offer."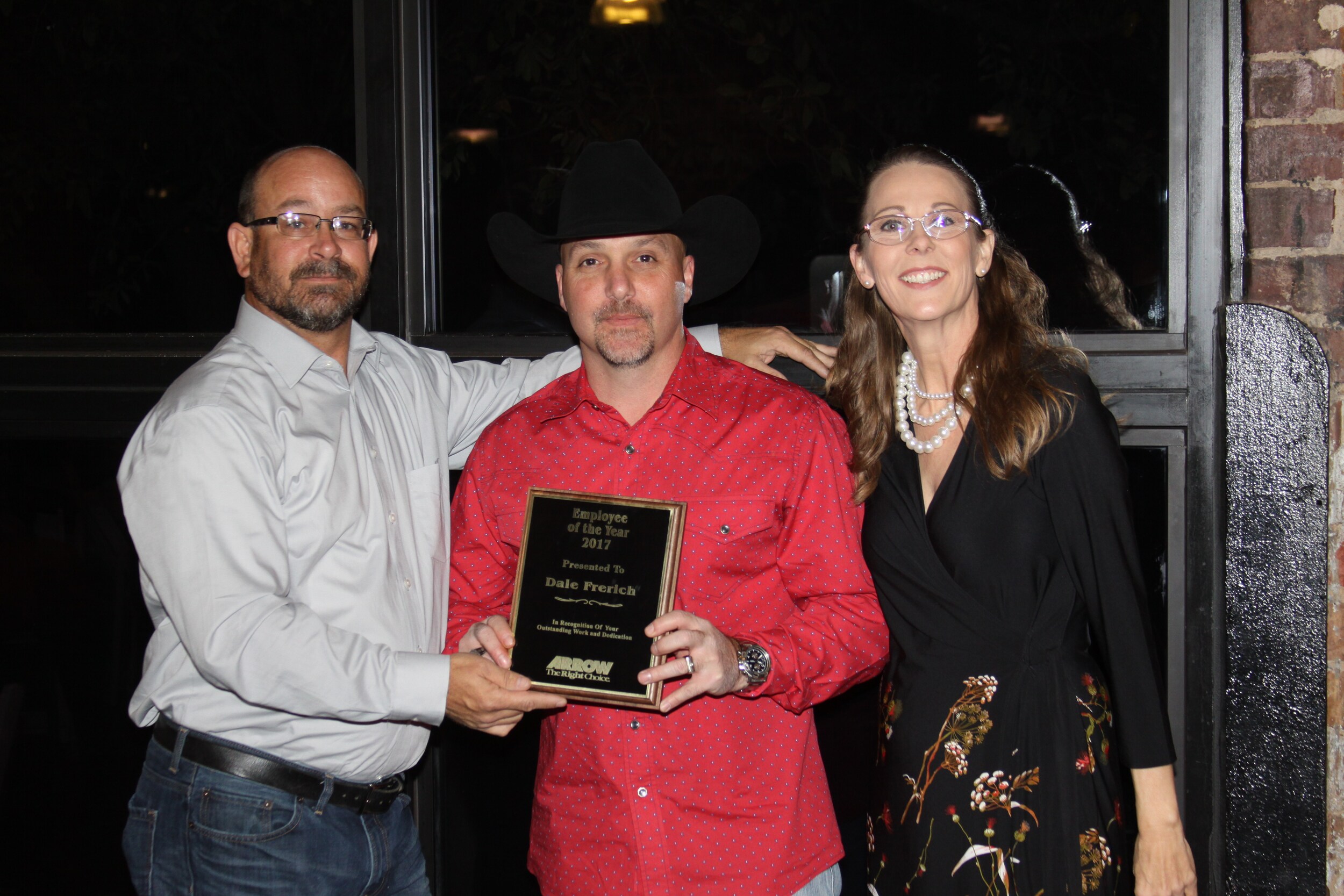 Veteran Salesmen of the Year- Malcom Johnson
Malcom Johnson has been with Arrow for 8 years. He grew up in Comanche and moved to Abilene to work at Arrow Ford and take a break from ministry. He has since returned ministry and currently preaches at Elmwood Baptist. Malcom and has a wife, Rebecca have 3 children Justin 28, Timothy 25, and Caitlin 13. Malcom received the "Veteran Salesmen of the Year" award and said it was a great surprise because he hadn't noticed where his standings were, he just did his stuff and it all fell into place. His goals are to help more customer find the rightvehicle and help the company move forward because "if the company moves forward all of us move forward."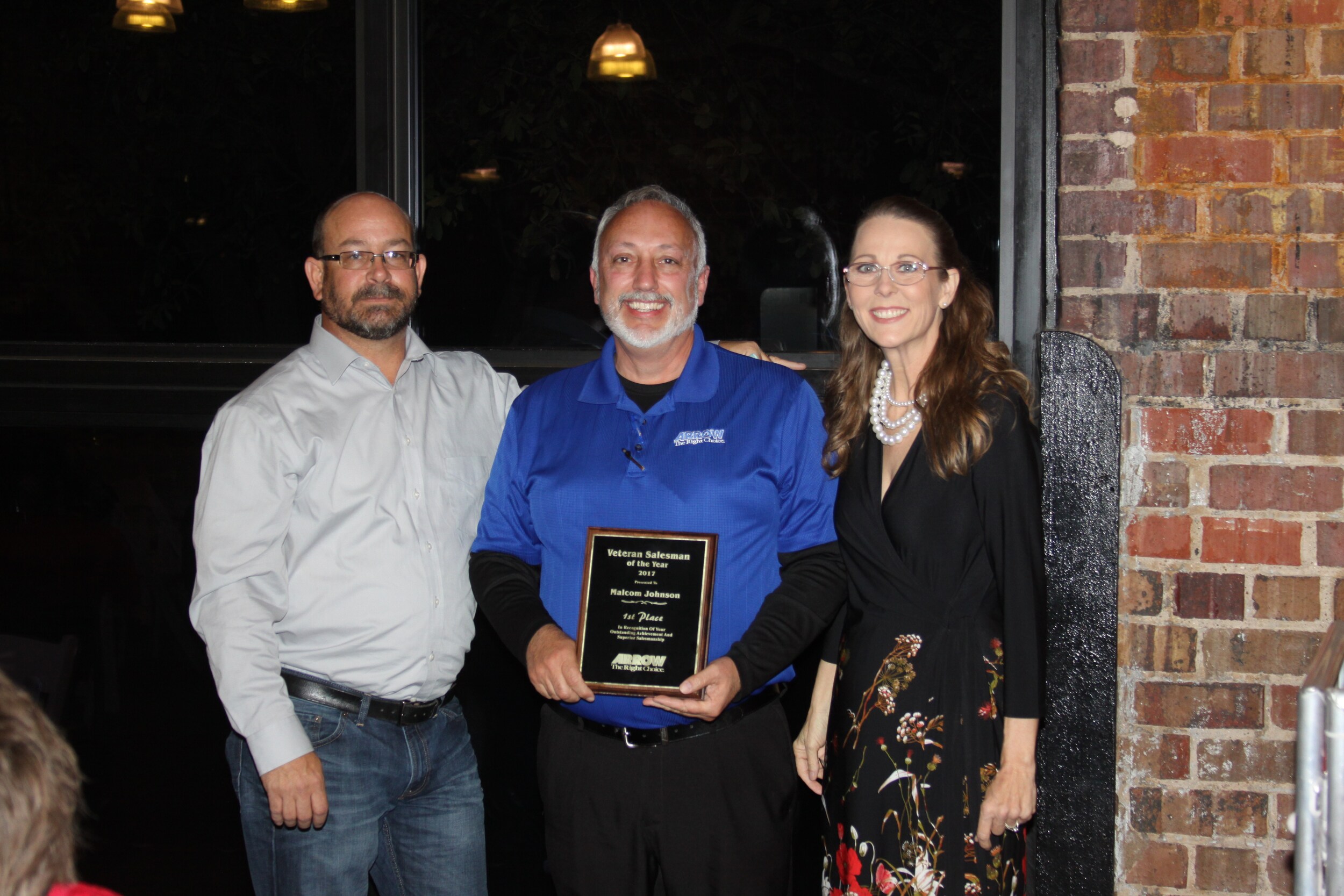 Rookie Salesmen of the Year- Ruben Yanez
Ruben Yanez has been with Arrow since November of 2016. Ruben was born in Abilene and went to Rotan High School. He has 2 children Kelsey 22 and Johnathan 16. He enjoys fishing, golfing, and helping people. He would like to travel to Hawaii because of the tropical environment and to find him an island woman. Arrow awarded Ruben the "Rookie Salesmen of the Year." He said winning this award was "A good sense of accomplishment to actually do your job and take care of customers. This job has allowed me to not live paycheck to paycheck. Arrow provides me the opportunity to not only help my customers and make friends, but reinforce my relationships with family, friends, and associates."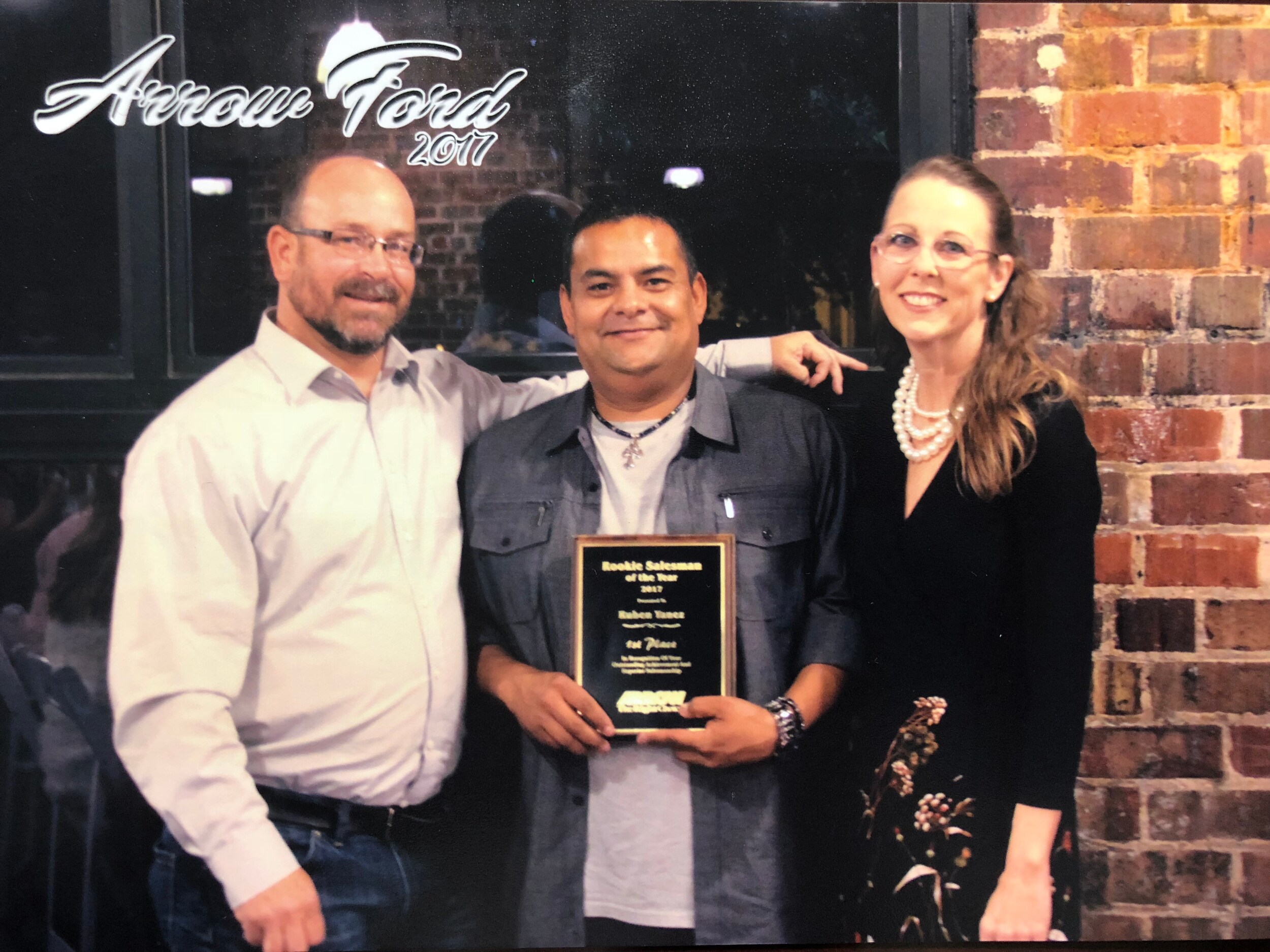 Detailer of the Year - Jason Bouchard
Jason Bouchard has been with Arrow for 2 years. He and his wife, Ashlee have 2 children Kieran 1 year old Athena 4 years old. Jason enjoys motorcycles, movies, fishing, video games, and occasionally hunting. He likes comic book movies and his favorite is the Avengers. Jason would like to travel to Ireland because of his family
heritage and he's never been out of the country. Jason's goal for 2018 is to go back to school and study cyber security. Jason was awarded the "Detailer of the Year" and said it meant a lot to him because he didn't know they would have an award specifically for them. "It's nice to know someone noticed how hard I worked."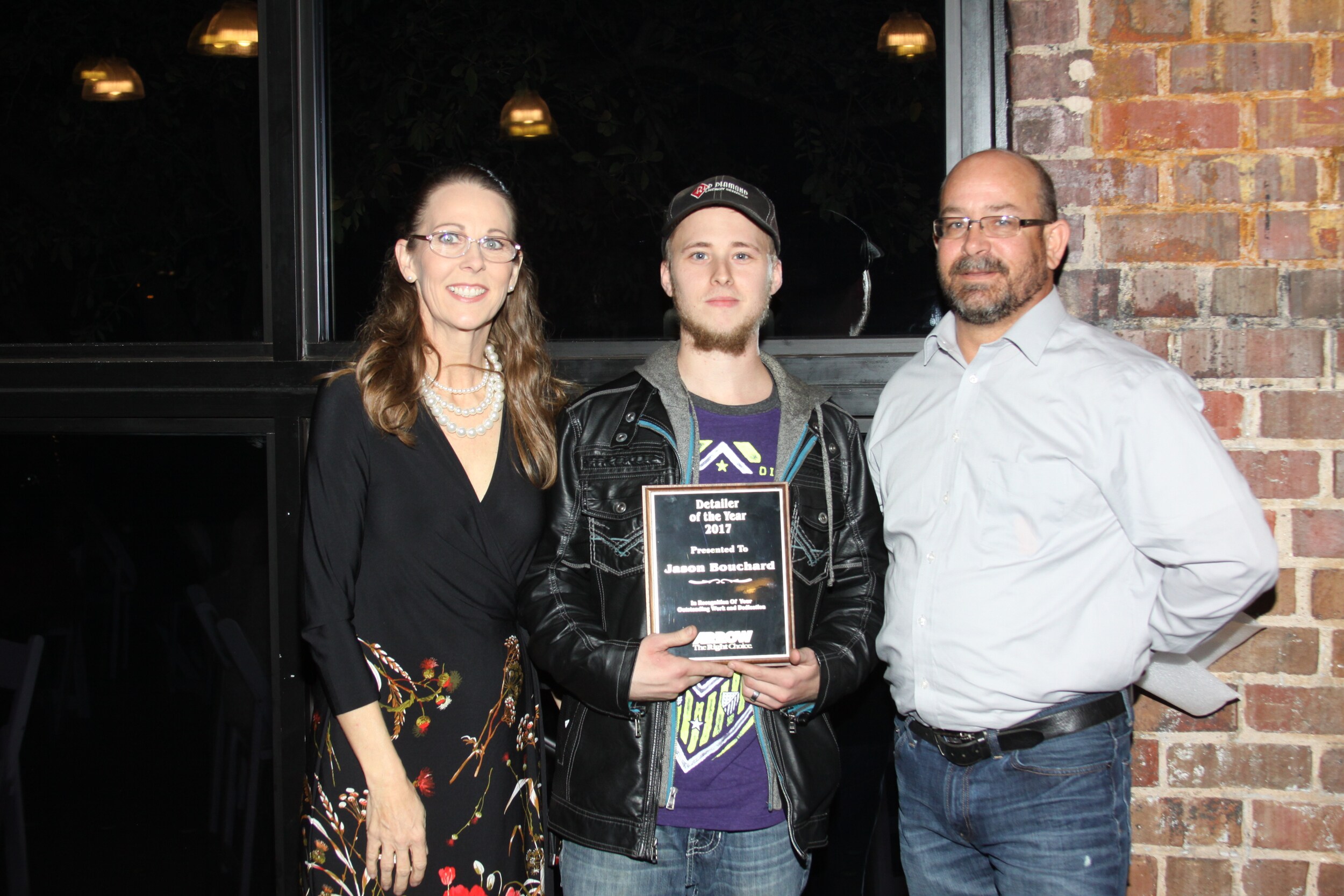 Service Adviser of the Year- Triston Cauthen
Triston Cauthen started at Arrow in the Make Ready department at age 16 working weekends, summers, and winter break. Now full time, Triston works as a Service Advisor and has been full time for a year and a half. Triston received the "Service Advisor of the Year" award and said "I was very surprised! It meant a lot, I worked hard." Triston is the oldest of three Trenton 19 and Travis 16 and children to Trennon and Tatum Cauthen. Triston said, "It's good working with my dad, he's someone I go to for advice, he's like a mentor and I guess I would have never thought it would be that way." Triston said he would like to visit Rome because he likes history.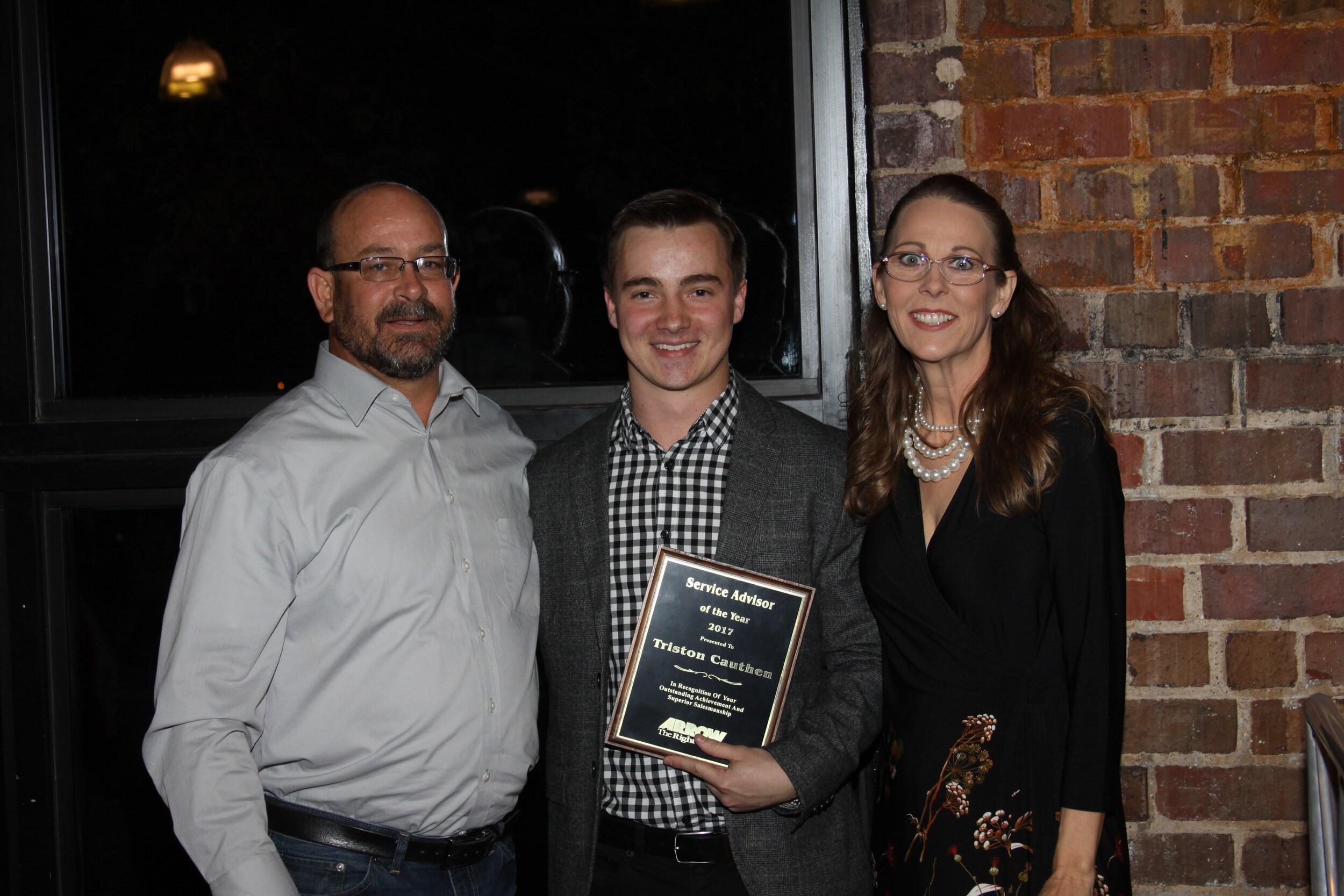 Quick Lane Employee of the Year- Emisel Torres
Emisel has been apart of the Arrow Teams for almost 2 years now. He and his fiance, Sanjuanna have a 17 month old son, Julian. Emisel enjoys fishing, going out, and brewing beers. His goal for 2018 is to "do a lot better than 2017 and hopefully move up to a service advisor..." Emisel was awarded the QuickLane Employee of the Year and said winning this award "felt pretty good. It shows that I've been working hard. I've been trying to get it the whole year!"