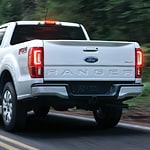 The Ford Ranger has been a staple among midsize pickup trucks thanks to the many great features included. One area where Ford has amplified the Ranger is with its capability. The Ranger is quickly becoming one of the top choices for adventure today.
The design of the Ford Ranger is built to handle all types of off-road driving. With a high-strength steel frame, steel frame-mounted bumpers, and an off-road chassis the Ranger is as durable as they come. Equipped with Fords EcoBoost engine and it produces enough power to tackle all types of trails and terrains. You can upgrade the Ford Ranger to the FX4 Off-Road package for even more capability off the paved roads.
Ford offers three different performance packages with the Ranger to choose from that optimize your driving experience. Choose between Level 1, Level 2, or Level 3 to find the features and accessories suited for you.