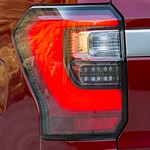 When a popular and powerful full-size SUV is on your shopping list, shop for the all new Ford Expedition. This exciting full-size sports utility vehicle has everything that you need to drive safely and conveniently. Find out what these performance features and how they can make owning the new Expedition a purely enjoyable experience.
Start, for example, with its world class trailer backup system. Even if towing is not one of your first priorities with the new Expedition, you still get the peace of mind that you can absolutely tow a flatbed trailer, livestock trailer or other small vessel behind your SUV if need be.
This system also lets you know immediately what is behind or beside your SUV. It comes with a rear view camera for safe backing up. You can guide your SUV and trailer into parking spaces and keep in your lane of traffic without colliding with others.