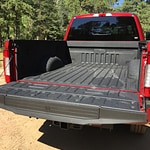 Heavy-duty trucks like the Ford Super Duty can be customized and configured to help you tackle and tasks you need to take on. This flexibility helps to ensure that if you properly optimize your Super Duty, you will increase your overall productivity. Our team in Abilene can help you build your dream Ford Super Duty.
One of the first things you need to consider when customizing your heavy-duty truck is what kind of cargo will you be hauling around. A crew cab model is perfect if you need to get passengers from work site to work site, but a longer bed makes it easy to load up larger amounts of cargo. Another thing to consider is how much towing capacity you are looking for. The Ford Super Duty comes with a wide range of powertrains, and getting the one with the right amount of power will help you save money and increase your overall efficiency.
You can stop by our showroom at Arrow Ford Inc to speak with our staff comprised of experts. They will be able to work with you to decide which Super Duty body style and powertrain will be most efficient for your use case. After you figure out what you are looking for, we invite you to get behind the wheel and see how it feels.