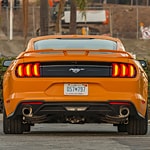 Ford Mustang is equipped with an above-average handling system that ensures quality, smooth driving for the driver. It is fitted with topnotch features that are highly efficient and durable. Visit us Arrow Ford Inc to our ford mustang collection and even get a chance to try them out for a test drive.

Handling capabilities

Ford Mustang has a turbocharged EcoBoost four-cylinder V8 engine that yields an outrageous amount of power, enabling it to conquer even the most challenging terrains. It also comes in hand with an optional active exhaust with quad tips that produce a thunderous roar when driving.

Besides this, it has a seven-speed dual transmission with several modes you could choose from depending on your needs. To keep these high-performance features in check, it is engineered with a larger radiator that can sufficiently cool the engine, preventing it from overheating. On top of this, it has a 3.55 Tosen slip rear axle that provides extra torque to the wheels.