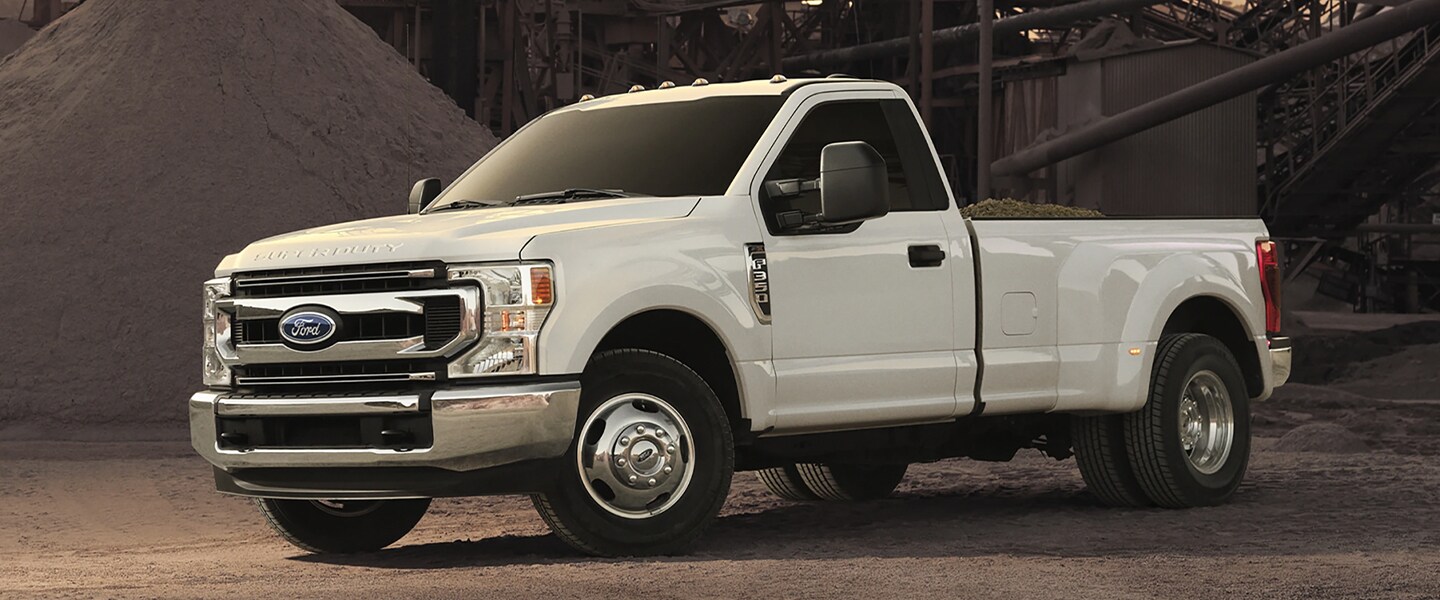 The New 2022 Ford F-350 Super Duty
The New 2022 Ford F-350 at Arrow Ford is incredibly impressive. With extensive towing capacity and immense amounts of cargo space, our team is confident that there's no way you won't find a trim that you love.
Before you rush out the front door to come to take one for a spin, we recommend reading through some of the trim details and specs first. We do not doubt that you'll be impressed!
A Few 2022 Ford F-350 Super Duty Basics
Ford and truck enthusiasts will be pleased to know that the new Ford F-350 Super Duty has three potential engine configurations, allowing drivers to figure out what will work best for them. You can choose from the following when shopping for a brand new Ford F-350 Super Duty.
A 6.2L gas V8 with 430 horsepower and 475 lb-ft of torque;

A 7.3L gas V8 with 430 horsepower and 475 lb-ft of torque;

A 6.7L diesel V8 with 475hp and 1,050lb-ft of torque.
The Ford F-350 Super Duty offers six different trims, each one with unique features and options that are entirely customizable according to driver preference. However, the comfortable yet stylish interior remains consistent throughout.
The impressive cargo and towing capacities are precisely what you'd expect from a Ford Super Duty truck, and the driver-assist technology is more advanced than ever. While most people don't associate comfortability with a truck that can pull a 37,000-pound trailer, Ford has made it possible. Remember, your towing capacity will vary based on the trim you choose.
Features of the New 2022 Ford F-350 Super Duty
While the new F-350 Super Duty is in line with the Ford trucks from the past that we all know and love, this 2022 edition kicks it up with an unexpected luxurious interior. You'll have the option to customize the size of your dashboard touchscreen based on your needs, and Ford offers different furnishings for each trim.
The interior and the exterior of the new Ford F-350 Super Duty boast new color options, and you can add technology, interior, and exterior packages that suit your preferences. This truck drives like a dream, even when towing, so while it's perfect for camping trips, the ergonomic controls make it a dream work environment.
If you have to tow or haul heavy equipment, the Ford F-350 Super Duty is the truck for the job. You'll never have to sacrifice comfort for a functional vehicle, as Ford has packed the F-350 Super Duty with cushioned seating and a spacious cabin. Let's dig into what the trims offer, hopefully helping you better understand which one might work best for you!
The New 2022 Ford F-350 Super Duty Lineup
You asked for heavy-duty, and Ford has delivered. This truck lineup is what truck-lover dreams are made of, combining technology and comfort with hardworking functionality.
The New 2022 Ford F-350 Super Duty XL
The Ford Super Duty XL is a perfect example of a workhorse truck. It has the towing and loading capabilities you need, with the very basic luxuries that make driving a Ford Super Duty so much fun.
Standout Features
Infotainment:

Though it's meant as a work truck, the XL has fantastic infotainment and sound systems, allowing you to stream your music, podcasts, and whatever else gets you through your drive.

Hauling Ability:

The XL makes the perfect work truck with limited technological distractions. The three-seater cab leaves plenty of space in the back to haul whatever you need, and the towing capability is on point.
The New 2022 Ford F-350 Super Duty XLT
The XLT has an excellent balance between work and play, perfect for those that love to work hard all week but play harder on the weekend. From the infotainment system to the towing power, the XLT checks so many desirable boxes.
Standout Features
Interior:

The interior of the XLT is cloth and easy to clean, and it's perfect for those who love to drive their big trucks in complete comfort.

Connectivity:

Apple CarPlay and Android Auto allow for music and streaming, and the upgraded SYNC 3 systems let you connect to anything (family, pizza delivery) while driving home.
The New 2022 Ford F-350 Super Duty Lariat
The Lariat acts as the introduction into the higher trims in the F-350 Super Duty lineup. You'll never want to stop driving your Lariat with climate zone control and a great SYNC 4 infotainment system.
Standout Features
Heating and Cooling:

The dual-zone climate control in the Lariat ditches the need for manual heat and air conditioning, keeping you at the perfect temperature year-round.

Leather Seats:

The leather seats make the Lariat's interior pop, and with your climate zone technology, you can keep your leather seating in a temperature-perfect environment.
The New Ford 2022 F-350 Super Duty King Ranch
If there's one thing we can say for sure about the King Ranch, it looks good both parked and in motion. It includes the Ford safety suite and acts as one of the best Super Duty trucks on the market.
Standout Features
Heated Seats:

Working out in the cold can be less than motivating, but knowing you've got heated, ventilated, leather seats waiting for you in your King Ranch makes it a little bit easier!

Stay in Touch:

The wireless charging pad in the King Ranch makes it easy for you to stay in touch with your family and your work teams whenever you need. Take your phone with you no matter how charged.
The New 2022 Ford F-350 Super Duty Platinum
The exterior of the F-350 Super Duty Platinum is to die for, including LED headlights and the addition of LED fog lights. The interior is just as great, boasting fantastic amenities for you and those who ride with you.
Standout Features
Stellar Interior Comfort:

Heated rear and front seats and adaptive cruise control make this work truck more enjoyable to drive.

Impressive Exterior:

The exterior of the Platinum has LED headlights, power-deployable running boards, and 20-inch alloy wheels. It looks good on long-distance trips or short weekend camping getaways.


The New 2022 Ford F-350 Super Duty Limited
As the top trim, you might expect a lot from the Limited, and rest assured, you'll get it! Inside and out, this truck has a striking aesthetic and functionality and is the ultimate Super Duty.
Standout Features
Two-Tone Interior:

The two-tone leather interior is specific to this model alone and makes it stand out in a good way. The dual-pane sunroof is a major perk as well.

Exterior Accents:

The satin finish exterior accents on the Limited go perfectly with the unique yet classy interior.


Test Drive a New 2022 Ford F-350 Super Duty at Arrow Ford
The wait is over for the new 2022 Ford F-350 Super Duty! The team at Arrow Ford can't wait to help you find the perfect trim, so call us today to make an appointment for your next test drive!