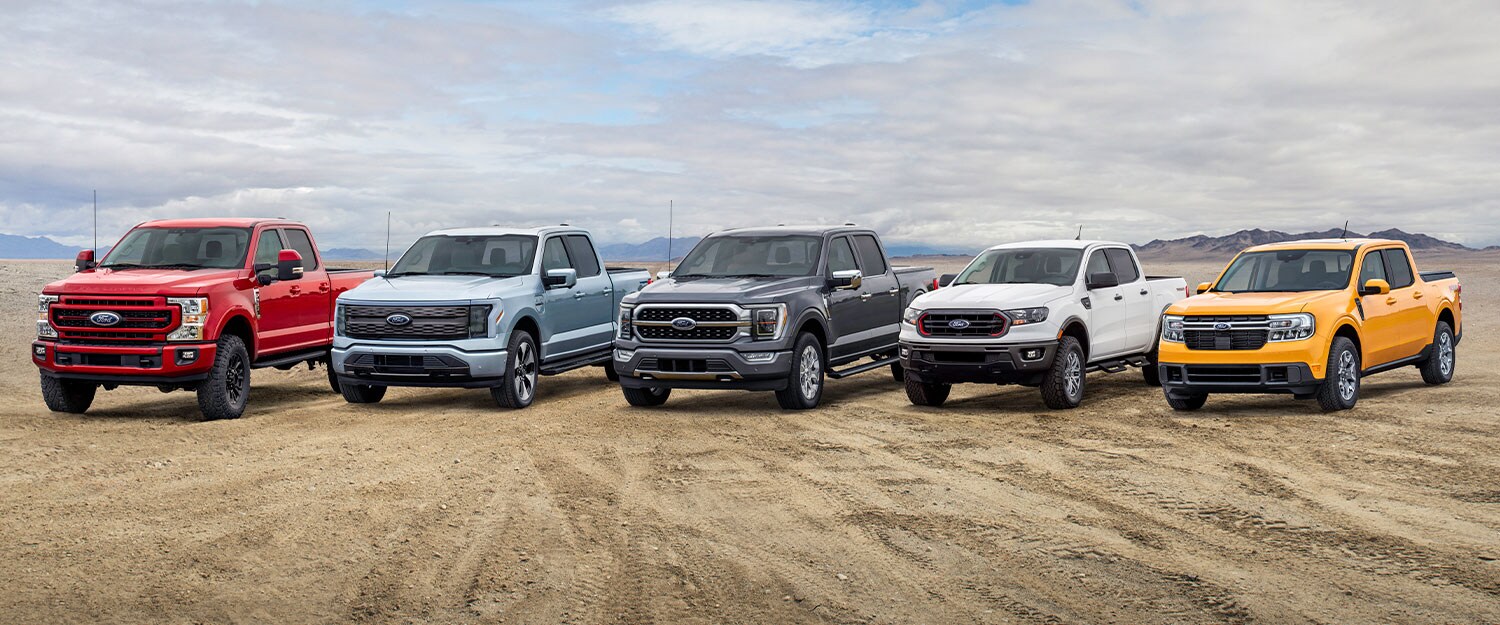 This research hub provides in depth information on Ford's latest top models conveniently in one place. This can be very helpful when narrowing down which vehicle is the perfect fit for you.
As always, our goal is to help provide you with the right choice of vehicle, be it new, used, or Ford Certified Pre-Owned (CPO). If you're interested in used or CPO vehicles and want to learn more about them you can read our article about the benefits of used and CPO. Arrow Ford is here to serve you with our expert service. Here are details on some of the latest models offered by Ford.
Your Next Vehicle Is Here
Below you will find our break downs and in-depth guides of each of Ford's top models. Each model has a corresponding article that will give you all the information you may need about that vehicle. For any additional information you can always contact us with any questions you may have, and we will provide you with answers in a timely fashion.
2022 Models
The All-New 2022 Ford F-150 Lightning
The Ford F-150 has been the best-selling truck in the country for decades. This new model comes with two battery pack options, a powered trunk at the front, and can carry 2000 lbs. of any payload.
The Maverick is the first full hybrid pickup offered by Ford. It sits five people, despite being a class 1 pickup. It can rival the best in the market. You can choose from several different customized models. With 191 horsepower on a hybrid base powertrain, you can experience enjoyable rides.
2021 Models
The New 2021 Ford Bronco Sport
2021 marked the return of the Bronco after 25 years of biding its time. This smaller yet functional SUV provides class and comfort. It has a fuel-efficient engine and comes with standard 4×4 capabilities. It also has safety features included like auto-braking and blind-spot alerts.
The 2021 Ford F-150 offers several features that were previously unavailable with older models. It comes with six engine options and is top in its class when it comes to power. You can also customize its bed space to maximize your cargo capacity.
The F-250 in 2021 sees upgrades to this beloved classic heavy-duty pickup truck. You'll find most of the feature's from last years F-250 remains, but it now has a better transmission and more options. You can opt for several trims, including the XL, XLT, Lariat, and more.
The Ford Mustang is one of the most popular sports cars in its class, and the Mach-E changes the formula. It is a new electric crossover SUV with performance, innovative navigation, and an impressive speaker system. The Mach-E can travel 211 to 305 miles between each charge.
2020 Models
The 2020 edition of the F-150 is still a complete package. You get choices from six engines, boasting better fuel economy ratings than most trucks. You can opt for a cab that can seat 3-6 people. It also has numerous safety features and different finishes to match your preference.
The EcoSport is one of the most affordable SUVs offered by Ford. It comes with various connectivity features and 123 horsepower performance. The vehicle is available at four trim finishes, including the S, SE, SES, and Titanium. It can comfortably fit five people in two rows without feeling cramped.
The Escape is one of the most popular models in Ford, having been in their catalog since 2000. The 2020 model features a new redesign and four trims. It has around 33.5 cubic feet of cargo space and foldable rear sets if that's not enough. With a new powertrain and a different feel, you can expect a fantastic drive each time you ride the Escape.
Choosing the Right Ford Model
When choosing the model that fits best with you, you'll have to consider several factors. Here's a few things you'll want to keep in mind before making a final decision.
Needs
Determining your purpose and needs can help you find the right car model. It should match your lifestyle and provide you with comfort and convenience.
Budget
Evaluate your finances realistically and look for a car that is within your budget. This ensures that you still have room for other expenses, such as fuel and maintenance.
Fuel Efficiency
Fuel efficiency is an important consideration if you want to minimize the impact of your journeys on the environment. A car with better fuel efficiency can also help you make the most of each dollar you spend
Size
The size of your car should accommodate every person who will use it. For instance, a sedan can be a practical option with enough space for passengers. If you need more space for people and cargo, you can go for midsize to large family vehicles.
Details
Research is a crucial aspect of your car buying process. That's why you should take time to learn the details and specifications of the car you're interested in. Combining all these factors can help you make an informed decision. If you've narrowed it down to several choices, finalize your decision with our selection.
Arrow Ford: The Place to Get Your Next Vehicle
At Arrow Ford, we make the buying experience easy and convenient. Our goal is to provide you with a car you feel satisfied with while keeping it within your budget. Browse our selection of new and used vehicles today or get in contact with us and we will reach out to you as soon as possible.