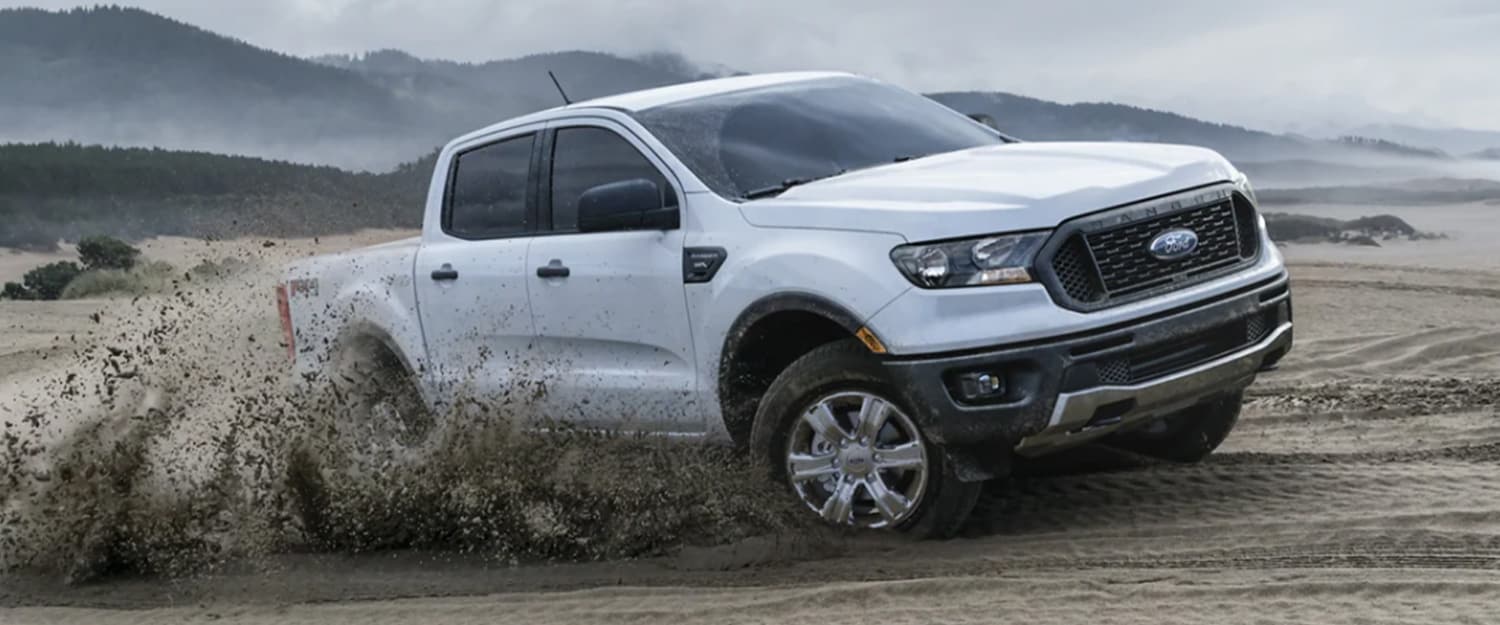 Are you in the market for a new vehicle? Looking for something that is tough, durable, and that offers an affordable price? Then consider the new 2021 Ford Ranger, as it checks all those boxes and more. This is a vehicle that doesn't shirk from treacherous terrain, but rather embraces and thrives in whatever topography that you place it in.
For this reason, the Ford Ranger is a vehicle worthy of your consideration. And in this article, we will cover the various trims associated with this model, in addition to the features that make each one valuable and unique. And as a result, you can make an informed decision about which is the best option for you.
Unmatched Utility and Practicality
If issued with the noncompulsory tow bundle, the 2021 Ford Ranger has the capacity to pull as much as 7500 lbs. Additionally, as the truck tows, it retains its power delivery; providing a level and dependable pull.  When it comes to payload, a generous haul of up to 1860 lbs can be expected by the Ranger.
Standard Powertrain
The 2021 Ford Ranger is equipped with a supercharged four-cylinder motor that produces 270hp in addition to 310 pounds of torque. This makes the Ranger relatively quick with a smooth output. Additionally, it also offers a 10-speed automatic transmission that comes out on top when compared to other models.
The 2021 Ranger XL is a contemporary pickup that offers sturdiness and stability, equipped with a 7500 lb towing capacity, power door locks, and cruise control. These benefits, in addition to many others, factor into the 2021 Ranger XL's appeal. This trim comes with 16-inch Silver Steel Wheels as well as all-season tires. Additionally, it contains an AM/FM stereo with Bluetooth Pass, so you'll have full access to a plethora of channels for your music and entertainment needs
.
Furthermore, the model also features black vinyl floor protection, in addition to tune suspension for off-roading. With the 2021 Ranger XL, you'll conquer the countryside as well as the city. And if that weren't enough, if you're someone who enjoys the remote lifestyle, then you'll never miss a beat with the FordPass Connect feature. With this attribute, you can escape the hustle and bustle of city life but still remain connected.
Standout Features
Dual-Zone Electronic Automatic Temperature Control: 

Do you enjoy colder temperatures while your spouse likes the warmth? With this feature, you can regulate the temperature of your section while your spouse does the same in theirs.

Smart-Charging USB port: 

The perfect solution for 

charging your smartphone device

 while on extensive road trips or lengthy commutes. The smart technology recognizes your device's distinct charging needs and is then able to securely charge it at the fastest possible speed.
With everything from tailgate power locking and anti-lock brakes to tow hooks and a terrain management system, the Ranger XLT has it all. And that's only scratching the surface! Some of the standard features include attributes like driver-assist technology for traversing congested roads. This, in addition to an Automatic Emergency Braking system by the Ford CoPilot 360 feature, delivers safety as well as durability. An amazing hallmark that gives you the best of both worlds!
Moreover, the 2021 Ranger XLT's front axle offers independent suspension, which means you'll have a smoother ride and a nicer handle on the vehicle.  And with shock absorbers on both the front and rear, you will drastically minimize vibration and shock on the pickup. This will reduce damage and lower maintenance costs over the long run.
Standout Features
Electronic Shift-On-the-Fly: 

Shift on the fly is composed of hubs that instantly bolt up and detach. The mechanical engine operates with a vacuum line that makes it go in and then out of gear.

Engine Block Heater: 

Utilized to warm up engine coolant, the engine block heater heats the engine block itself as well as the oil. This warms the inside of the vehicle, making the temperature more pleasant.
The 2021 Ranger Lariat is a dream come true for any pickup enthusiast. With its trail control, engine block heater, 18-inch alloy wheels, and steel-framed mounted front bumper, this is a truck with an almost endless supply of prominent features. Additionally, its sleek design and athletic build are a testament to what a standard pickup truck should be.
The Ranger Lariat offers front leather-trimmed seating in addition to outboard trimmed seats. And what's more, they come as standard equipment. Additionally, the driver and passenger seats are equipped with the 8-Way power-adjustable driver as well as the 6-way power-adjustable driver. And to top it all off, the seats are also heated.
Also, the B&O Sound System offers excellent entertainment that's at your disposal instantaneously. For this reason, you can feel great about cruising around in the 2021 Ranger Lariat -- where you'll never have a dull moment. And with 10 high-grade speakers and as many as 660 watts of magnified power, this system is more than just a medium for music. It's an experience in and of itself! And last but not least, powerful LED headlamps in addition to daytime lamps, as well as fog lamps, all come as stock instruments with the Lariat.
Standout Features
 

EcoBoost Engine with Auto Start-Stop Technology: 

EcoBoost provides auto-start and -stop technology. This feature conserves your fuel while you're waiting at red lights, rush hour traffic, or while you're at a fast-food drive-through.

Electronic Power-Assist Steering: 

Electric Power-Assisted Steering (EPAS) is designed to make your life (as the driver) easier. Power steering is used to reduce the effort that the driver is required to expend to steer the automobile.
Are You Ready to Upgrade to the Ford Ranger?
If strength, ruggedness, and durability sound appealing, then the Ford Ranger is a pickup worth your consideration. Decked out with all the features to make your ride comfortable, all while still retaining the "Built Ford Tough" philosophy -- this is a truck of resolute longevity. And at Arrow Ford, we're here to ensure that that remains the case. If you'd like to learn more, be sure to contact us today with your questions. We look forward to hearing from you. If you're interested in more of Ford's top models, be sure to check out our research hub!