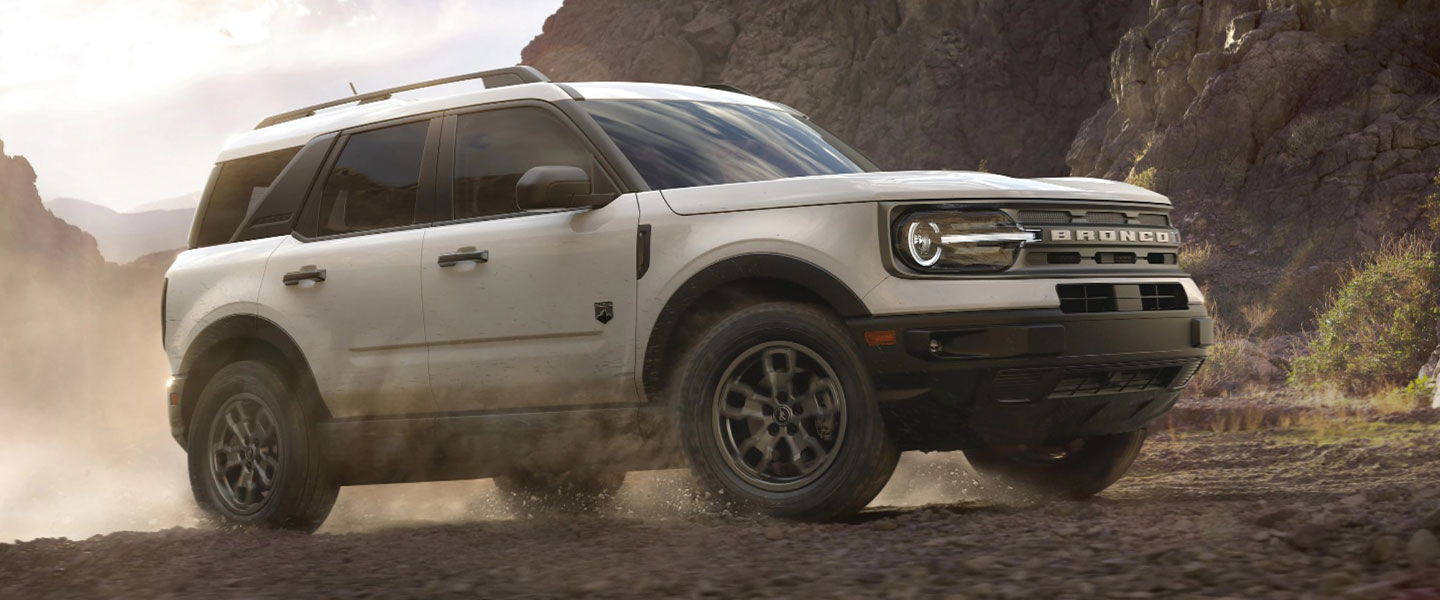 The New 2022 Ford Bronco Sport at Arrow Ford is bringing the new 2022 Ford Bronco Sport to consumers that want what this incredible vehicle has to offer, where urban sleekness meets perfected off-road capabilities. Whether you're headed out on your own or bringing the family in tow, the New 2022 Ford Bronco Sport is up for the challenge, from both a size and comfort perspective.
This compact crossover feels anything but compact, with a truck-like shape that offers plenty of headroom and cargo space within. Hidden storage compartments, a slide-out workbench, and all-wheel drive are just a few aspects of the new Ford Bronco Sport that has them flying off the figurative shelves and into customer driveways.
This vehicle is borderline revolutionary, so let's take a look at what all the fuss is about! Get ready, because it's really good.
Stellar Interior Comfort and Cargo Space
The inside of the 2022 Ford Bronco boasts plenty of space (you might not even miss the full-size Bronco here) and a ton of luxury for a vehicle that prides itself on its ability to handle offroad conditions like a pro. The roofline rises in the rear, giving passengers plenty of headroom, and the legroom available in the back is just as ample. Even though this is the sport, there's room in the cargo space to fit two mountain bikes, which is actually pretty substantial! The storage bins located underneath the back seats make this a super kid-friendly ride.
Transmission and Engine Performance
The new 2022 Ford Bronco Sport rides on the same platform as the compact Escape, and every model in the line has an all-wheel drive. The Bronco Sport can successfully tow between 2000 and 2200 pounds, all with a very impressive engine resume. The baseline engine is a 181-hp turbocharged 1.5-liter, three-cylinder while a 245-hp turbocharged 2.0 four-cylinder is available as well. The Sport has an 8-speed automatic transmission to boot. The Bronco Sport drives a little like a truck on the highway, and handles off-road conditions exceptionally well, with limitations.
Fuel Economy & Safety
The 2022 Bronco Sport has a pretty impressive fuel economy, with car testers reporting up to 33mpg on the highway. If you look at ratings, you'll find that it's 25mpg on city streets and 28mpg on the highways. This mileage will differ depending on which engine you're using, the 3-cylinder or the 4.
Ford always ranks well as far as safety reports go, with a plethora of driver assistance technology, including forward collision assistance and auto emergency braking. A few key safety features include standard blind-spot monitoring, standard lane departure warning, and cruise control with stop and go technology.
The New 2022 Ford Bronco Sport Lineup
The amazing lineup for the 2022 Ford Bronco Sport offers something for everyone. However, picking the right car for you can be, on occasion, a frustrating and overwhelming process. At Arrow Ford, we can help. First, we'll dig into each 2022 Bronco Sport model and highlight the features that, based on our years of knowledge, consumers are certain to like best.
The 2022 Ford Bronco Sport Base
The base model of the 2022 Ford Bronco Sport is perfect for anyone that loves a high-quality vehicle that can handle both city and offroad trips like a dream. The base model has a classic Ford Bronco look that's difficult to pass up, with standard 4x4 capability, SYNC technology, and a terrain system with 4 modes. The Ford co-pilot is nearly unbeatable concerning vehicle safety systems.
Standout Features
    Stellar Technology:

When it comes to off-roading, safety features, and connectivity needs, the 2022 Ford Bronco Sport has everything you need to travel into the wilderness while staying connected to those that matter.

     Impressive Safety:

Ford CoPilot 360 is the suite of all safety systems. With the 4x4 technology that can handle anything, you can be certain your Ford Bronco can take you wherever while keeping you safe.
The 2022 Bronco Sport Big Bend
If you're looking to level up from your base model Bronco Sport, look no further. The 2022 Bronco Sport Big Bend contains every inch of the base model but upgrades a few components, including easy-to-clean seats and keyless entry. The push-button start is incredibly convenient, allowing you to keep your keys in your pocket both in and outside of the vehicle. Perfect for adventures.
Standout Features
Perfect Travel Assistant

: The 2022 Bronco Big Bend is ready to take on any adventure with you, no matter how messy it might be or how much you've got to pack, as the interior is completely spacious and ridiculously easy to clean.

Ultimate in Intelligence:

With a keyless entry keypad and a push-button start, the Bronco Big Bend is the definition of ease and convenience.
The 2022 Ford Bronco Outer Banks
If you love the look of the Bronco Sport, but you want more of a refined finish, the Outer Banks is for you. This trim screams outdoors, but looks sleek and pulled together while navigating urban and suburban streets. Truly a vehicle for those that desire the best of both worlds, you'll find the luxury of the Bronco Outer Banks impossible to resist.
Standout Features
Luxury Meets the Outdoors

: Whoever said that camping isn't classy never had a Ford Bronco Outer Banks. No matter where you plan to take your Outer Banks, rest assured that you're getting there in complete comfort with mini perforated leather seats, remote start, and auto-climate control.

Appearance Matters:

The Outer Banks proves that car exterior is important, boasting a shadow black roof that matches the rest of the vehicle to luxurious perfection.
The 2022 Ford Bronco Sport Badlands
The Badlands are so much more than a Springsteen song, and with a rugged exterior and peak off-road performance, the Bronco Sport Badlands is here to prove that. From the metal bash plates to the specialized off-road tires, if you have an obsession with navigating Mother Nature, this vehicle is for you.
Standout Features
Get Out and Explore:

The Ford Bronco Badlands wasn't meant to sit in your driveway, so if you're ready to take on the world, this is the vehicle you'll want to carry you through with an Advanced 4x4 system, specialized tires, and an amazingly rugged exterior.

 

Peak Off-Road Performance with Looks

: It can be hard to come across an off-road vehicle that looks classy, but the Badlands manages to mix ruggedness and luxury perfectly.
The New 2022 Ford Bronco Sport at Arrow Ford
If you're seriously considering a vehicle that boasts luxury while offering extreme off-road capabilities, the 2022 Ford Bronco Sport at Arrow Ford is waiting for you to come to try it out. We're here to help in any way possible, walking you through each trim option available to find the one that suits your lifestyle. Call us today to schedule an appointment!