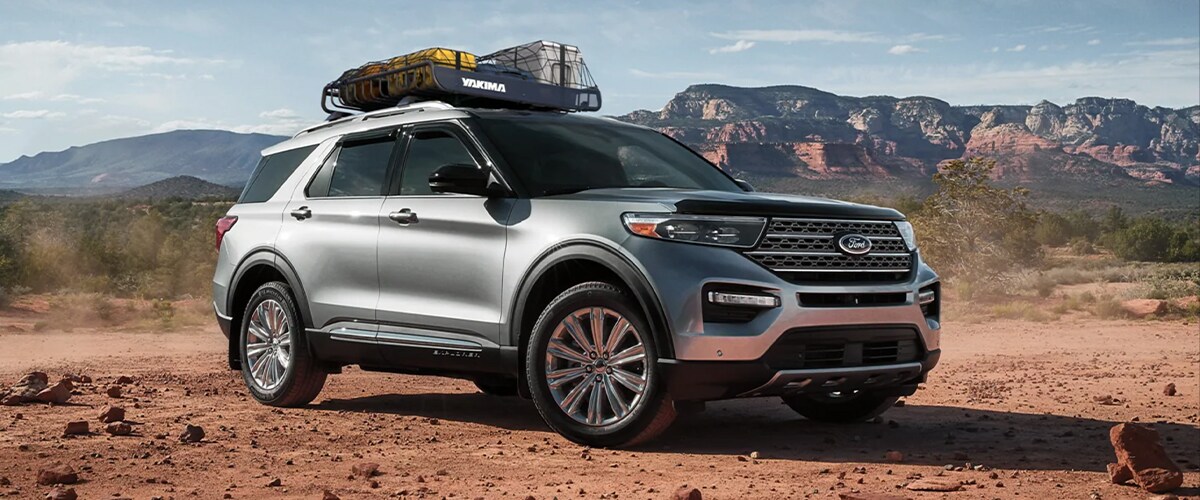 Ford has a seemingly endless lineup of trucks and SUVs, and there are none more suited for families than the new 2022 Ford Explorer. This solid SUV offers impressive storage space, an abundance of safety features, and three rows of seats. The new Explorer is perfect for those with a lot to tote around and boasts excellent tech features and driver's assist. When it comes to the Ford Explorer, there is plenty new for 2022, so read on with us at Arrow Ford and let's take a look!
Revolutionary Interior Comfort and Cargo Space
The new 2022 Ford Explorer has a ton of space throughout the vehicle, offering functionality and comfort in the cabin area. Though the third-row seating may be uncomfortably close to the floor for adults and older kids, it's easily accessible from the second row.
The cargo space offers room for suitcases, pets, sports or camping gear, and so much more. The comfort level of the seats lives up to what consumers have come to expect from Ford; relaxed and roomy.
Connectivity & Infotainment
At Arrow Ford, we understand that the connectivity factor in new car models continues to gain traction as an essential factor in purchasing a new car. The 2022 Explorer has a touchscreen ranging from 8 to 10 inches, depending on your trim of choice.
Each trim features Apple Carplay, Android Auto capabilities, and a WiFi hotspot. You'll love the rear-seat entertainment system and the voice-activated navigation as well.
Driver Assistance & Safety Features
Every Ford Explorer has many advanced safety features and driver assistance technology and allows room for advancements such as self-parking. As far as safety, you'll find a standard lane-departure warning, lane-keeping assist, rear cross-traffic alert, forward-collision warning, blind-spot monitoring, and automated emergency braking.
Ford Explorer 2022 Engine Performance
The Base, XLT, and Limited Ford Explorer trims have a 300-hp turbocharged, four-cylinder, 2.3-liter engine. In comparison, the King, Ranch, ST, or Platinum trims offer a twin-turbocharged, 400-hp, 3.0-liter V-6 engine.
If you're looking for a hybrid 2022 Ford Explorer, look no further. With a 3.3-liter V-6 engine and an electric motor, the hybrid Explorer comes in at 318-hp. The 2022 Explorer can handle up to 5,600 pounds when fully equipped for those who want to haul.
The ten-speed transmission is automatic, and the Ford Explorer rides on rear-wheel-drive but offers all-wheel drive as an option. In short, the New 2022 Ford Explorer is a super performance SUV.
The New 2022 Ford Explorer Model Lineup
Choosing the right vehicle for your needs can serve as a challenge. Features and performance typically end up as the driving factors behind a vehicle purchase, and to assist you in finding the right Explorer for you; we've broken down the trims and features in detail.
The 2022 Ford Explorer Base Trim
The Base Trim offers comfort and convenience with the classic Explorer exterior and a comfortable and technologically advanced interior. Spacious third-row seating is available in this trim, along with rear-wheel drive, intelligent 4WD, stellar security and safety features, and a 10-speed, smooth automatic transmission.
Standout Features
●       Reverse sensing system that emits a series of beeps when you're nearing specific objects behind your vehicle
●       FordPass Connect includes a WiFi hotspot powered by AT&T, with access up to 50 feet outside your vehicle
The Ultimate Safety: Feel safe inside and outside of your vehicle, knowing that your reverse sensing system has your back and WiFi service allows you to connect when you need it most.
The 2022 Explorer XLT
The Explorer XLT delivers a super comfortable interior, with cloth front bucket seats and second-row captain's chairs. The Terrain Management System in the XLT is top-notch, featuring intelligent 2WD and 4WD.
The drive modes are incredible, offering seven settings: normal, trail, deep snow, sand, slippery, sport, tow/haul, and eco mode. Drive modes are easy to operate from a dial in the center console. Overall, the Explorer XLT is perfect for the adventurous.
Standout Features
●       Comfortable cloth seating surfaces and an eight-way power driver's seat
●       The revolutionary terrain travel system, making the SUV the ultimate adventure companion
Enjoy Your Ride: Complete comfort and insanely advanced travel system give you an adventure everywhere you go.
2022 Ford Explorer ST-Line
The ST-Line offers up the Ford Co-Pilot 360 feature for plenty of confidence on the road. Some of the most advanced technology comes with the Co-Pilot 360, including automatic emergency brake, pedestrian detection, blind-spot information and lane-keeping information system, and backup camera.
A sporty exterior and a comfortable interior with ActiveX Seat material make for a classy, comfortable ride.
Standout Features
●       The Ford Co-Pilot 360 Assist for complete safety features
●       Comfortable and stylish interior
Comfort and Joy: Enjoy your revolutionary Ford 360 assist with safety features that go above and beyond, all while settling into your interior that offers the utmost comfort.
Ford Explorer Timberline
The 2022 Timberline is beautiful, sporty, and 100% off-road ready. The grille is incredibly unique, a beautiful dark, carbonized gray designed explicitly for the Timberline model. The grille gives consumers the option to add dealer-installed performance auxiliary lights.
Like all Explorers, the Timberline offers comfort and style but will work best for those who love spending time off the beaten path. Steel skid plates protect the Timberline's front, rear, and underbody, so you can off-road with confidence.
Standout Features
●       The off-road-ready capabilities are standout in this trim
●       The unique grille makes for a customized look
More Offroading: Take to the unbeaten path and utilize every amazing off-road possibility Ford offers in this unique and stylish ride.
The Ford Explorer 2022 Limited
The Explorer 2022 Limited has a 3.3 Liter hybrid engine and is the only model in its class that can tow 5,000 pounds. Not only that, but this hybrid model is entirely off-road capable. Ventilated, leather-trimmed seating means four-season comfort for front-riding passengers.
The SYNC Voice-Activated navigation system gives complete voice control for reaching your destination safely while avoiding traffic and road issues. Traffic alerts are available with SYNC Services.
Standout Features
●       Off-road capable hybrid engine with the ability to tow 5,000 pounds
●       Leather seating surfaces with leather-stitched, breathable comfort
Make Your Way Safely: Ford helps you know what's coming on the road ahead with SYNC, and you can get wherever you're going in complete, leather-stiched comfort.
2022 Explorer ST
A 3.0L ecoboost engine is the backbone of the ST trim and takes the athletic feeling of the Explorer to another level. With the combination of turbocharging and Ford Performance engine tuning, you'll have 400-hp under you at all times. Intelligent 4WD and a performance-inspired interior stay true to the Explorer's goal of style and comfort.
Standout Features
●       The eco-boost engine encourages plenty of horsepower and travels up to 143 mph
●       Intelligent 4WD that optimizes braking and powertrain systems, allowing the traction to match driving conditions
An Intelligent and Ecofriendly Ride: The ecoboost engine is everything you've been waiting for in a high-powered SUV, and the Explorer brings it all, with plenty of style to boot.
The 2022 Explorer King Ranch
The King Ranch Explorer features the same 3.0L Ecoboost engine that you'll find on the ST and the Platinum, resulting in a sporty feel, but it's the interior of the King Ranch that Explorer buyers love the most. Designed in complete luxury, the King Ranch interior offers a hand-crafted, southwestern feel with lavish Mesa Del Rio leather.
Standout Features
●       The King Ranch comes with all the excellent safety and driver-assist features of the Explorer, but the interior has the ultimate in southwestern luxury
●       3.0L ecoboost hybrid engine
Save the Planet in Luxury: The Ecoboost engine is back in the King Ranch, so you can revel in your peace of mind as you reduce your carbon footprint in only the best of what Ford has to offer.
2022 Explorer Platinum
If you want the Ford Explorer's sporty versatility combined with Diamond leather seating surfaces for renowned luxury and comfort, then the Explorer Platinum is for you. The cabin is exceptionally comfortable, with plenty of seating and storage space, and the twin-panel moonroof makes it even better, allowing in the warmth of the sun and the night sky.
Standout Features
●       14 Speaker B&O sound system with 980 watts is fantastic for entertainment purposes
●       Diamond leather seating throughout with exclusive accent stitching
Bring the Outside, In: This is your chance to bring the night sky into the cabin of your Ford, with this exclusive moon roof. Travel with plenty of space and comfort, for as long and as far as you need to go.
See the New 2022 Ford Explorer at Arrow Ford
If you're ready for an all-terrain sports utility vehicle with the luxury of a high-priced sedan, you'll love the 2022 Ford Explorer. Arrow Ford is standing by to assist you in any way we can, taking you through the specs of each 2022 Ford Explorer and helping you decide which one might be right for you. Call us to schedule a test drive today! For more information about Ford's top models, be sure to check out our research hub!